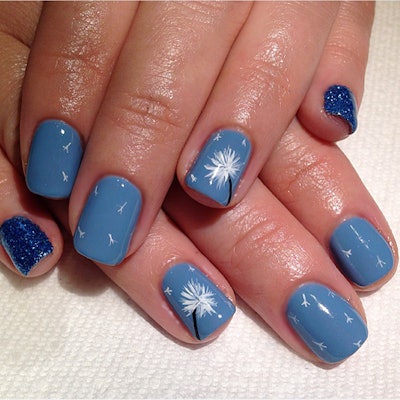 If your wish was for a dandelion nail tutorial, it has been granted! Becky Carter (Instagram @nailsby_becky) guided us though her step-by-step for these. Click through to see.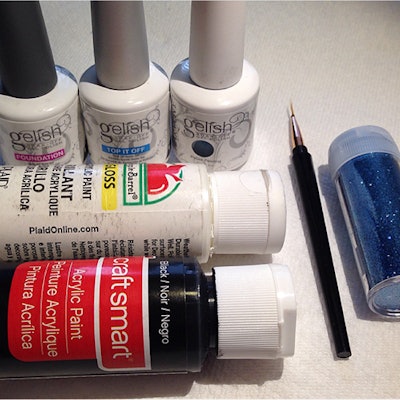 Items you will need:
Gelish Foundation
Gelish Top It Off
Gelish Up In The Blue
black acrylic paint
white acrylic paint
Martha Stewart loose glitter, lapis
very thin paint brush (I cut mine to make it the size I like to work with)

Step 1. Prep nails for a gel manicure, apply foundation, and cure. Apply 2-3 coats of Up In The Blue, curing in between coats.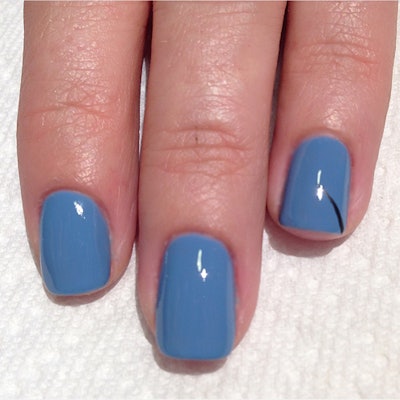 Step 2. Using the black acrylic paint, make a thin line starting at the corner of your nail and moving toward the middle of the nail.

Step 3. Water down your white acrylic paint so it is very thin. Make small, thin lines coming out from the top of the black line. Complete a circle with the lines.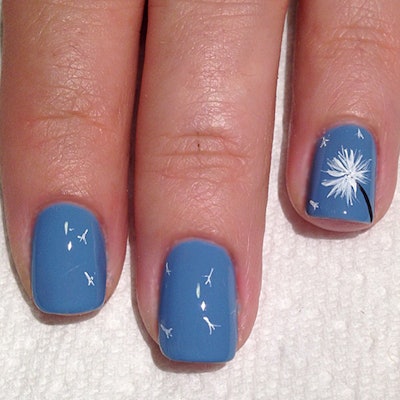 Step 4. Make four small lines randomly around the nail. Make sure one of the lines is a little bit longer than the others. It should resemble a chicken's footprint.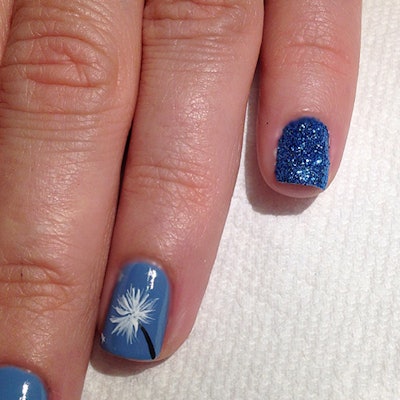 Step 5. Apply a thin layer of Up In The Blue on the pinky nail. Before curing the nail, sprinkle the glitter on, making sure you cover the entire nail. Cure in an LED light for 30 sec. Brush off extra glitter and press the glitter down with your finger to make a smooth surface.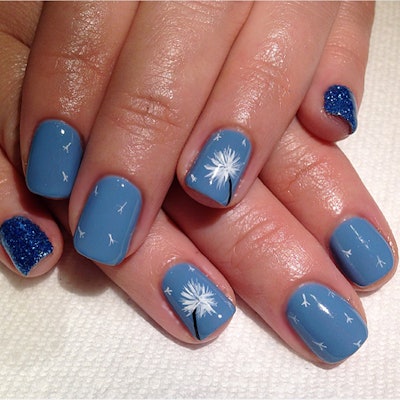 Step 6. Add Top It Off, cure for 30 sec. Wipe off tacky layer, massage in cuticle oil and you're done! 🙂
See more work from Becky Carter on Instagram: @nailsby_becky
[Courtesy of Becky Carter]