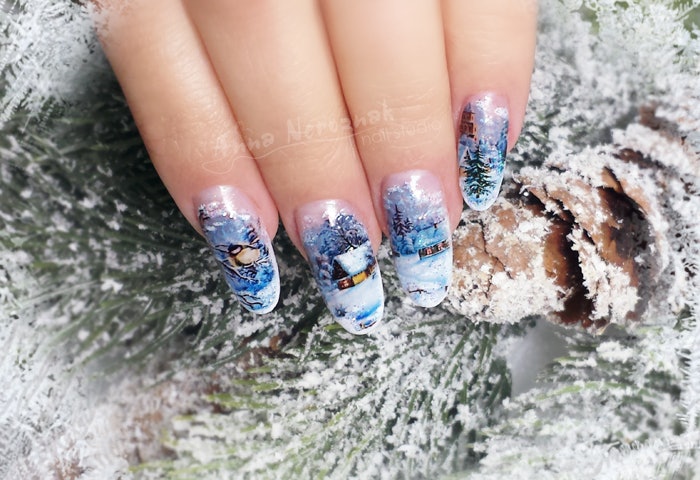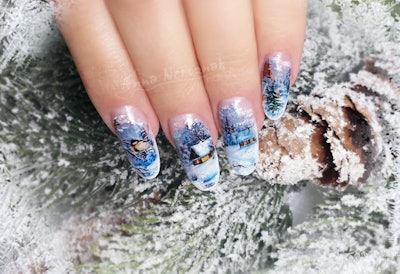 If your clients prefers detailed designs, this winter scene by Anna Neroznak will win them over! Click through to see how to do it.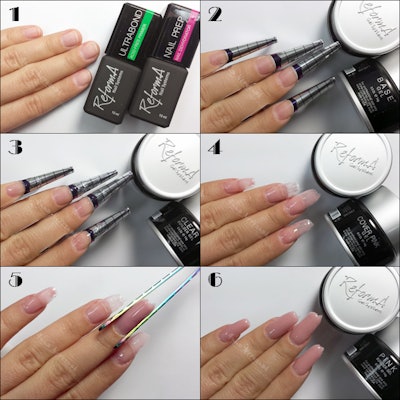 Step 1: Prep nails as usual (remove natural shine with soft file 220/220 or 180/180 grit). Dehydrate with Nail Prep. Apply Ultrabond Primer.
Step 2: Apply Nail Forms and apply a thin layer of Base Gel.
Step 3: Use Clear Gel to extend a free edge of the nail.
Steps 4-5: Use Cover Pink gel to sculpt the nail. Pinch the nail with tweezers to create a beautiful deep C-Curve.
Step 6: Cover whole nail with clear or semi-transparent pink builder gel.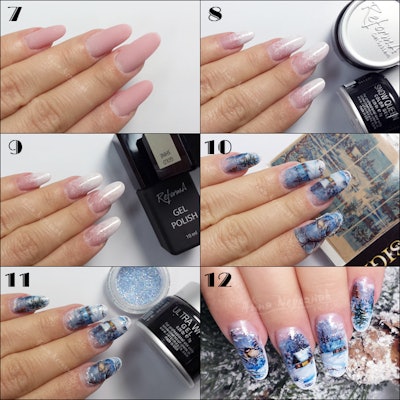 Step 7: File the nails into their final shape.
Step 8: Apply white color gel.
Step 9: We used Gold Shine gel polish to cover the whole nail. It has very beautiful gold shimmer.
Step 10: Wipe of dispersion (sticky) layer and apply RDcorp Photo-Design Winter Mix 53. Do not forget to leave 1 cm all around the edges. Use soft file to remove the excess of the film.
Step 11: Use white gel paint and glitters to camouflage all seams and edges.
Step 12: Cover the whole design with Finish gel (which has sticky layer) or Finish Gel Polish.
All materials are available at our local distributors or here:
www.shopnailart.com
[Courtesy of Anna Neroznak]