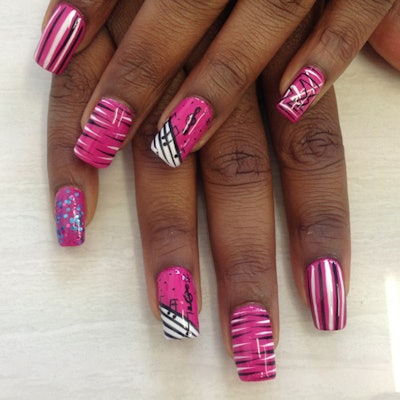 This manicure by Bonnie is for music lovers and animal lovers alike. Detailed mismatched nails are a growing favorite, and a great way to showcase your nail art skills. So try it all — stripes, lines, shapes, glitter — with this step-by-step tutorial.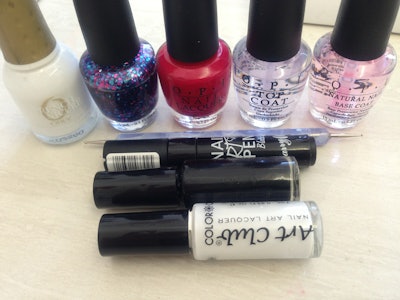 Supplies Needed: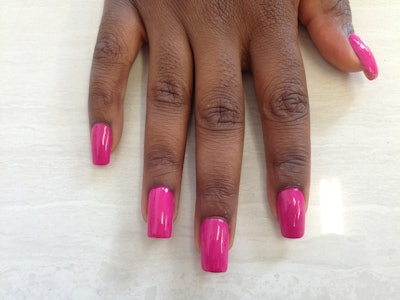 Step 1: First, paint all nails with desired base polish. Bonnie used OPI I'm Indi-a Mood for Love.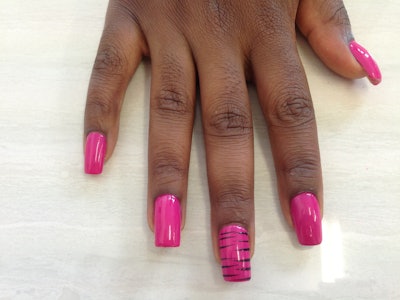 Step 2: Secondly, use your striper brush and paint the middle finger with stripes on the left side, then repeat on the right side. Do this for both hands. If you don't have a striper brush, use a striper brush and dip into a nail polish; it works the same way. If using a striper brush, ensure you clean it with remover after each use.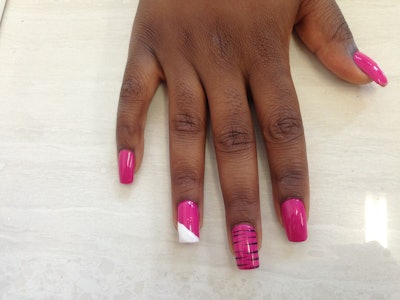 Step 3: Now paint your ring finger diagonally halfway from the middle nail to the tip in white. Repeat on the other hand.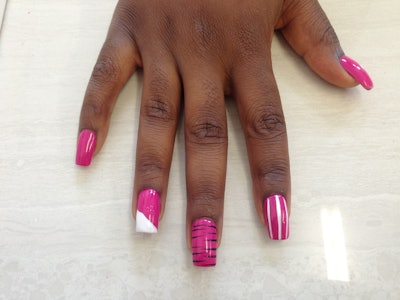 Step 4: Using your striper in white polish, paint vertical lines downwards starting by the cuticles down to the edge of the nails. Paint at least three lines. Repeat on the other hand.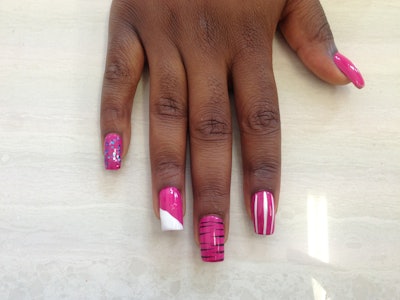 Step 5: Using OPI Polka.com, paint the pinky nail with two coats of polish. Repeat on the thumb of the other hand.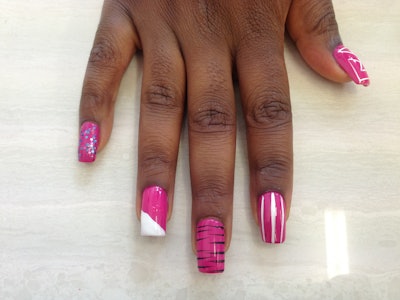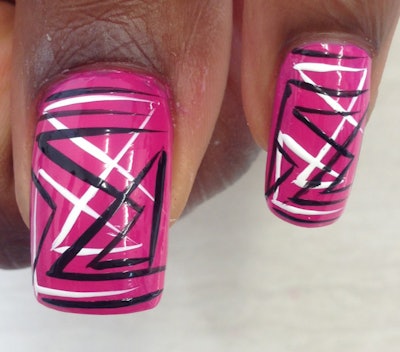 Step 6: While letting the glitter dry, use a striper brush and white polish to paint lines on the unpainted thumb and pinky of each hand. Aim for sharp angles, some of which almost create a ? (sigma) symbol. Then, with the black striper draw some similar lines overtop.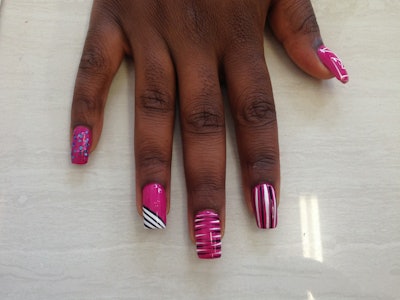 Step 7: Using the white striper, draw lines across the middle nail between the black lines. With the black striper, draw lines straight down the index finger in between the white lines. Create downward lines across the white angled French tip of the ring finger with the black striper. Repeat all this on the other hand.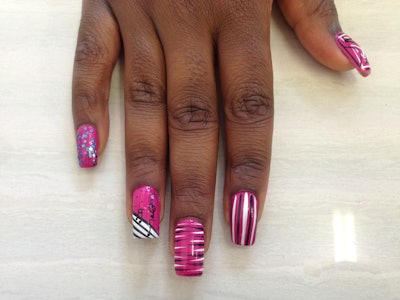 Step 8: Using a dotting tool, paint some dots on the ring finger to start the musical notes. Next, use a black nail art pen to draw lines to join and make the musical notes. Add a treble clef to the nail. Repeat the same on the other hand. Finally, use a top coat, like OPI Top Coat, to set the color and design. Done!
Like Bonnie's nail art on Facebook: facebook.com/bonbonsbeauty
Follow her on Instagram: @bonbonsbeauty
Check out her Twitter @bonbonsbeauty
[Courtesy of Bonnie H.]