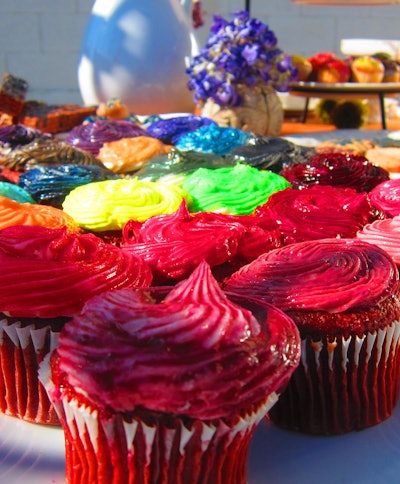 Producing the beautiful Tinge of Indulgence in NAILPRO's September 2011 issue took a lot of time, patience, creativity and SUGAR. (I'm not going to lie and say I didn't appreciate those props!)
Each muffin, cookie or dessert you see "frosted" or "iced" with color are actually goodies topped with one of the new fall soak-off gel colors we featured in the story. The staff at NAILPRO meticulously decorated, placed and styled the treats in a way we felt would best represent the rich, lustrous, bold and neutral tones of this year's hottest autumn gel colors. And yes, we really did cure the sweets. Anything we could do during that heat to keep the gels in one place, we did!
Take a look at how our gel polish tablescape was created and enjoy. This was an amazing process and I hope you like the end result as much as we do.
—Megan James
NAILPRO September 2011 Tinge of Indulgence
Executive Editor Stephanie Yaggy
Associate Editor Megan James
Associate Editor Stephanie Corbin-Mills
Art Director Patty Quon-Sandberg
Photographer Armando Sanchez
Graphics Design Editor Jaison Duell Wilson
Intern Bekki Roth