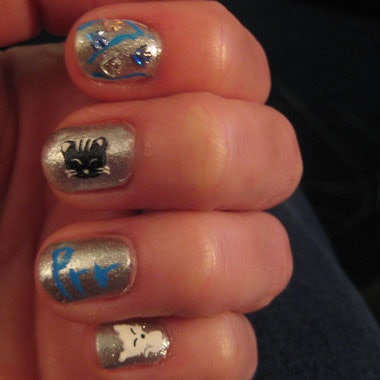 Hi everyone! This is Megan James. I am privileged to come on board with NAILPRO—such a fun and creative place to work. I have a background in writing and fashion but not exclusively in the nail industry so, I'm playing around with product to learn more about it, use my imagination and try on different nail styles. I love it! Here's what I did last night:
I applied silver Orly polish in Shine and decided to have a little fun. In the NAILPRO product closet, I had found…Backscratcher Divine Design cat decals, which made my day (I'm a huge kitty lover). I also found some amazing nail art paints from ArtNails. I used their superfine nail art brushes to create "Prr" on my index finger. Next, I applied shiny fish and butterfly nail jewels that I had found. (They weren't labeled, so I don't know who makes them.) I thought the fish would go nicely with a cat theme. I picked up the paint in blue to make waves for my fish. The butterfly was to go with the nail wrap from Incoco I had put on a few days ago. I thought the glittery pink would look cool with blue sparkly butterflies. And it does! So much shiner in person. These little treasures (the fish and butterflies) were attached to my polished nail with Vivid Top Coat by Color Club, then sealed with a final finish coat so they'd stay in place, and they do!
I am just getting started. I'm excited to play around with all the nail art we have here. I can't wait to show you guys more designs—particularly for the holidays. Can anyone say bunny?