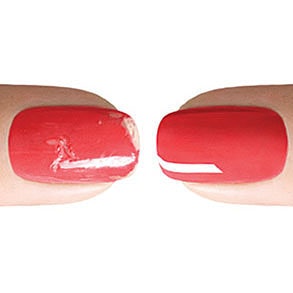 Nail techs, consumers and beauty editors—oh my! Everyone is crazy for CND Shellac. And who wouldn't be? This revolutionary hybrid product has the staying power of a gel manicure with the look of nail lacquer.
With 12 colors in the Shellac lineup, the only thing you're left wanting is more, which is why CND has released color combinations that bulk up your number of Shellac colors by layering the ones you already have.
Looking for a vibrant violet? First apply the Shellac Base Coat and cure. Next, layer Shellac Fedora and cure, and then add a coat of Shellac Tutti Frutti and cure. Finish the Shellac service as normal, but with a trendy new shade.
---
See our nail art how to » collection. Post your own nail art how to » in our Nail Art User Galleries. Check out nail art how to » every month in our digital edition. View nail art how to » on your iPad or iPhone with the NAILPRO app.
---
CND gives you 10 new colors you can create by layering, but you can explore and find even more! For a complete list of Shellac combinations, visit cnd.com/shellaclayering.