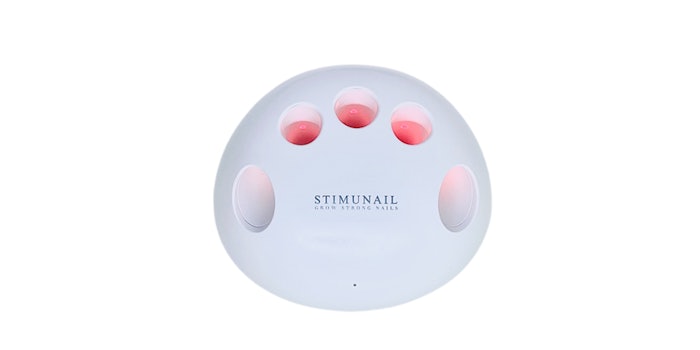 Courtesy of StimuNail
StimuNail has released its nail heath device that helps restore a healthy nail color, strength and resilience, for optimal growth. StimuNail is an at-home, chemical-free solution to having strong and healthy nails.
StimuNail has tri-function technology that combines three treatments in one. The gentle heat, massaging vibration and clinically proven LED light therapies work together to increase circulation bringing nutrients and oxygen to the keratin rich nail cells. 
"Think of StimuNail like eating a healthy meal or getting a workout—with regular use, you will start to see a change in your nails, resulting in healthier, more resilient nails and better growth," says developer and founder Stacey Steinmetz. Over 12 weeks, damaged, peeling nails will be restored to their healthiest state, with better strength and flexibility to achieve a longer length.
Steinmetz, a cosmetic bio chemist and new product development expert, had always struggled with nail issues, and she was determined to find a healthy alternative to grow nails at home.
Her research uncovered that LED light therapy technologies were a trend in at-home devices and backed by clinical studies. Steinmetz saw the effect red-light therapy had on cell health and created a device that would target the cuticle and matrix area of nails, making her the first to launch a consumer nail care device to improve nail health.
StimuNail is developed by Pretty Smart Innovations a trusted, USA-based, female-owned brand, dedicated to simplifying women's beauty routines with today's latest cruelty-free technologies.