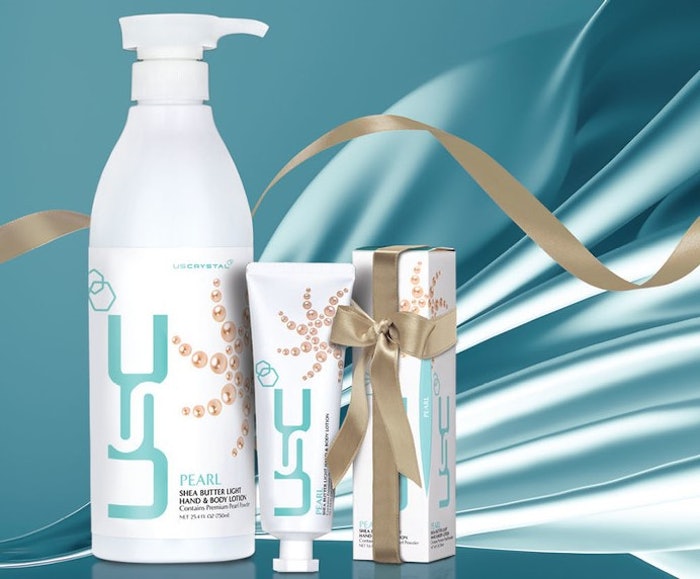 Courtesy of US Crystal
The brand's lightweight, nourishing lotions are enriched with shea butter, aloe, rosemary and olive extracts. Take home the salon experience and transform your dull skin into a silky smooth one.
The lotions are: 
Free of 10 Toxins: All products are free of the top 10 commonly used toxins in the cosmetic industry.
Contain 16 Natural Ingredients: The brand uses a plethora of potent natural ingredients proven to benefit the skin effectively.
Cruelty Free: All products are cruelty-free. No animals were harmed in the development of the products. 
The collection contains four scents in 50 and 750ML: 
Pearl: Brightening and invigorating, US Crystal's elegant pearl scent is the most popular and raved. This lotion embodies the perfect combination of fresh soap and floral aromas.
Aloe Vera: Repair, renew and hydrate with US Crystal's aloe scent. This highly popular fresh scent embodies the combination of fresh-cut florals with a hint of foresty aroma.
Lavender: Skin regenerating and smoothing, the lavender scent embodies the sweet combination of a romantic lavender field with a hint of foresty aroma.
Green Tea & Honey: Anti-aging, moisturizing and soothing, the green tea & honey scent is a highly popular floral and sweet scent that embodies the combination of sweet tea with a floral scent. 
The collection is available now on US Crystal's website.