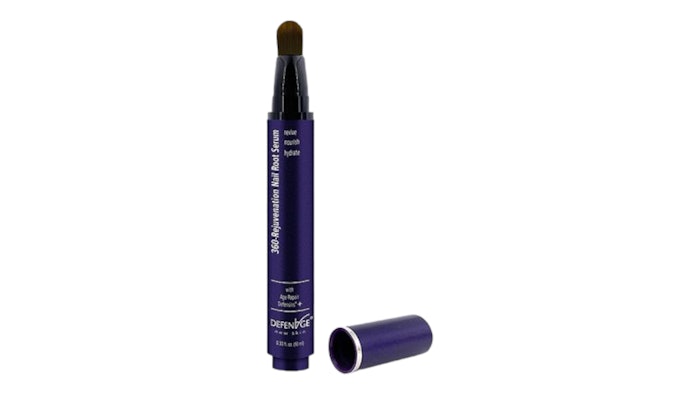 Courtesy of DefenAge
DefenAge Longevity Skincare, the manufacturer and distributor of revolutionary, evidence-based, de-aging products, has announced the launch of its new 360-Rejuvenation Nail Root Serum. 
The 360-Rejuvenation Nail Root Serum is the first-ever nail serum that utilizes Defensin-molecules to target the real source of healthy nails – the root!
As we age, our nails become thinner, weaker, and more fragile. Life habits, including diet, daily tasks, and hobbies, also affect our nails. The root of nail growth is located in the nail matrix, in the LGR6+ cells that actually produce our nails.
The new 360-Rejuvenation Nail Root Serum is designed to trigger natural nail rejuvenation by directly messaging LGR6+ cells using DefenAge's proprietary and patented composition of Defensin-molecules. 
"Instead of cosmetically 'fixing' the old nail plate by bringing chemicals into it, like common nail serums do, the 360-Rejuvenation Nail Root Serum addresses the cause of the problem by targeting the nail-producing matrix in the nail root for new stronger, smoother, rejuvenated nails," says Board-Certified Dermatologist, Natalie Curcio, MD, MPH, MMHC.
DefenAge's 360-Rejuvenation Nail Root Serum delivers a multitude of benefits for nails:
Visibly improves the natural health and overall condition of the nails and skin around the nails.
Improves natural nail smoothness.
Improves nail strength for less fragility.
Hydrates and nourishes nails and the surrounding skin.
Helps natural keratin production.
Provides a full range of antioxidant protection.
Optimizes nail growth metrics.
Together with Defensins, the nail serum also contains niacinamide, biotin, hydrating squalene, pentanol, and an advanced anti-inflammatory and soothing complex.
The serum comes in an airless bottle equipped with a brush to enable easy application and should be applied on the skin around the nails as well as directly on the nails.
The 360-Rejuvenation Nail Root Serum retails for $116 on the brand's website, defenage.com and through dermatologists and aesthetic surgeons, med spas and other professional aesthetic service providers.