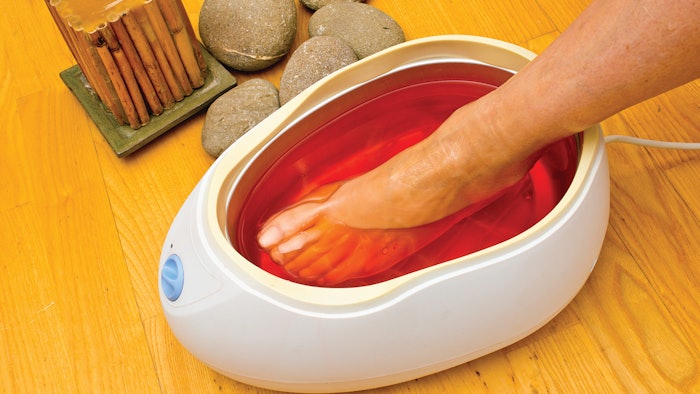 The minute cold weather creeps in, our skin reacts—no matter how much we love those brisk, wintry breezes. Colder air dries out the dermis; indoor heaters further exacerbate the problem. Hands tend to take the brunt of this seasonal change; we expose them to the elements more than most other body parts. So, it is no wonder you might notice clients taking a seat across from you with flaking, chapped hands.
Sure, you can slather on your spa manicure scrubs and lotions, but another service begs to hold a spot on your cold-weather menu: paraffin. Chido Chidakwa (@shenailsspa), owner of She Nails Spa in Camden, London, recognized not only the skin-rejuvenating benefits of paraffin but also how it enhances her clients' experience at her nail salon. "Clients are interested and always amazed at the results," she says—especially during the winter when clients seek relief from dry skin and cuticles and are feeling increasingly achy.
"Paraffin treatments are a great addition to any salon service menu," says Sabrina Sandoval, GiGi public relations manager. "Giving your clients a specialty treatment such as paraffin wax takes only a few minutes of your time while leaving them feeling more pampered and relaxed than ever before."
Little time, big benefits? Read on to learn how this therapeutic wax delivers that and so much more.
To learn more about paraffin wax basics, precautions and sanitation, check out Nailpro's January/February 2022 digital magazine.