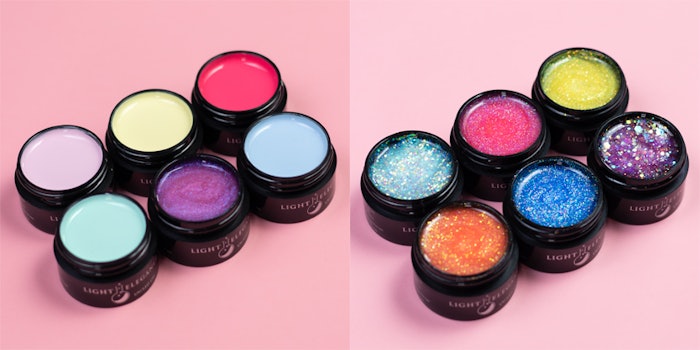 Courtesy of Light Elegance
Light Elegance has opened The Candy Shop with its latest, and sweetest collection yet!
The Candy Shop collection features 12 shades and is available in three formulations: Premium ButterCream,  P+ Soak-off Gel Polish,  LE Color and Glitter Gel.
Colors
Totally Taffy- A sweet, soft pastel yellow.
Candy Jar- A soft pastel baby blue.
Jelly Bean- A sheer, delicate baby pink with blue sparkles. 
Bon Bon- A creamy, sweet pink.
Lollipop- A bright carnation pink.
Minty Fresh- A creamy, fresh cool mint green.
Glitters
Take Two, They're Small- A soft, sweet mango with medium sized gold, orange and yellow sparkles throughout.
Sugar Drop- A bright yellow with flashes light gold and yellow.
Sinfully Sweet- An iridescent glitter with large crystal pieces.
Bubblegum Baby- A sweet pink with small iridescent sparkles with translucent light pink pigment.
Pixie Purple- A jelly lavender mixed with small and large iridescent glitter throughout.
Yummy Gummy- A pastel pixie-blue glitter with tiny firefly sparkles throughout.
Available everywhere Monday, February 6, 2023.