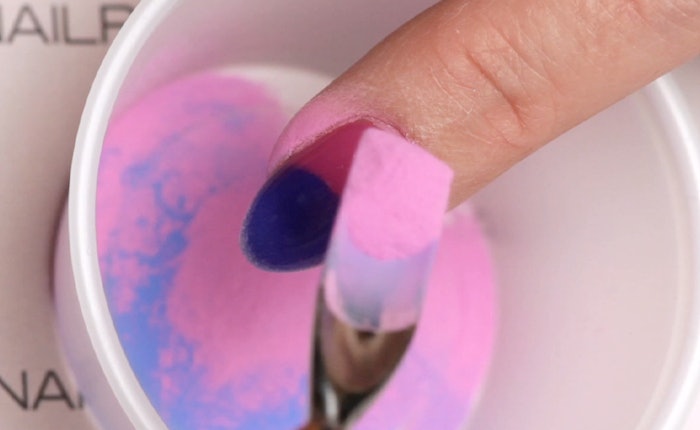 Looking for a new service in the salon? Greg Salo, president of Young Nails, shows an extremely fast and powerful technique to create bulletproof SlickPour enhancements with Caption Conversion Base And Top coat. Plus, get a look at how you can add Caption stamping plate designs to the look.
Watch the video to see the technique using Caption Conversion Base and Top in action. 
Follow the steps below to learn how to use Caption Conversion Base And Top with Young Nails SlickPour.
1. Remove shine from the natural nail.
2. Apply a thin layer of Protein Bond from the cuticle to the free edge.
3. Apply a thin coat of Caption Conversion Base and do not cure.
4. Set the SlickPour Catch All Cup underneath the nail to prep for the next step.
5. Pour SlickPour Powder in Sports Fanatic to the bottom half of the nail.
6. Repeat previous step using Wine Flight on the top half of the nail to create a gradient effect. Tap off the excess powder. Cure in LED lamp for one minute or two in a UV lamp.
7. Repeat for full coverage and cure.
8. Use Swipe and a lint-free wipe to clean up any excess color on the surrounding skin.
9. Lightly buff the nail and remove debris using Swipe and a lint-free wipe.
10. Load the Caption Polish Boho Bungalow Stamping Plate with Look Don't Touch. Quickly pull the color and pick it up with the stamper and apply the design.
11. Once dry, apply a coat of Caption Conversion Top to seal the look.
12. Remove the inhibition layer with Swipe and a lint-free wipe.
What do you think of this creative technique using Caption Conversion? Let us know in the comments below!

-Sigourney Nuñez
READ MORE: