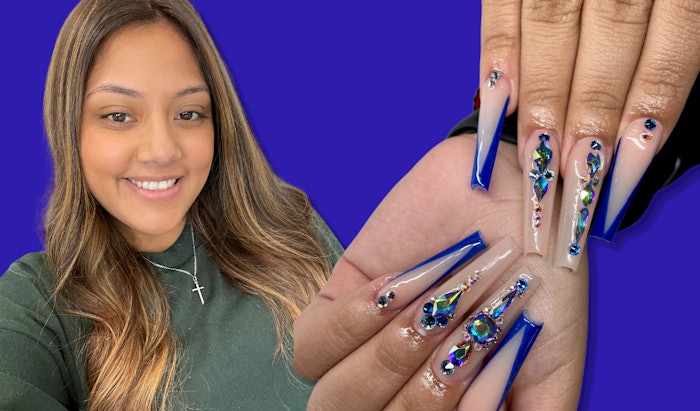 30 Under 30 Spotlight: Biany Ramos 
Get to know Biany Ramos (@bianyyynails), a California-based nail tech and owner of Bianyyy Nails. 
Read our November/December 2022 digital magazine to see the complete list of 30 Under 30 winners.
Q&A 
Nailpro (NP): Tell me a little bit about yourself! How did you get started, and why did you choose to become a nail tech? 
Biany Ramos (BR): I am home based nail tech located in Pomona, California. Nails have always been a passion of mine. I've been getting my nails done since I was in middle school. I've always dreamed about opening my own nail business when I was younger. I also grew up watching my aunt and her sisters become nail technicians. They opened their own nail salon in Las Vegas, Nevada. During high school, in the summertime, I would go to Vegas for two weeks to a month. During that time, I would go to the nail salon and watch my aunts work all day. Soon, it became an even bigger passion of mine. After high school, I went straight to working and college for business because that's what everyone was doing, but my passion for nails never left. One day I thought to myself, "I want to take a nail course." So, I did. My nail technician journey started in 2019. The following year, during the pandemic, I applied for the nail program at Salon Success Academy in Upland, California. I graduated from the program in October 2020 and got my license in April 2021. The pandemic made the process a little longer, but it was all worth it.
NP: What is the toughest part about your job as a nail technician/nail artist/salon owner?
BR: The toughest part about owning my own business is definitely the financial aspect of it. Between having to buy supplies, budget, my own personal expenses and business taxes, it's all hard to manage. I've managed to do it for the past year-and-a-half and hope it will become easier. 
NP: What do you love about your job?
BR: It doesn't feel like a job. Doing nails is a passion from start to finish – building my clientele, seeing my progress, and even building friendship out of my clientele is amazing. 
NP: Where do you find inspiration?
BR: I find my inspiration from seeing my growth as a whole. I love to see how far I have come since I started my journey. I've done it all on my own. Of course, I had and still have the support from my amazing parents and fiancée, but seeing my growth has definitely kept me going. Don't get me wrong, there have been many obstacles, but I've been able to get back up and continue to grow from them. 
NP: What is a piece of advice you would give other nail technicians who are just getting started?
BR: A piece of advice I would give other nail technicians starting their nail journey would be don't give up and have patience. Patience is a virtue. Also never compare yourself because everyone moves at their own pace. 
NP: What is a tip you have about any technique, service, business, etc.? 
BR: A tip I would give is never stop your education in nails. There is always space for learning new things. This industry is always growing and coming out with new trends, so never stop learning. 
NP: What is your favorite nail trend right now?
BR: My favorite nail trend right now definitely has to be nail art. When I first started doing nails, I could not draw a straight line to save my life, and now I'm able to draw a little. I'm still practicing and taking courses, but I definitely can't wait to see where my nail art is one year from now. 
NP: What is your favorite service to offer?
BR: My favorite service to offer has to be acrylic. Any kind of acrylic services; full sets, fills, and acrylic overlays. I love to see the process from start to finish. 
NP: Who is your role model?
BR: My role model has to be my aunt. She definitely was my role model when I was younger and still is. Seeing her become a successful business owner and nail technician has just shown me anything is possible. 
NP: What is one of your proudest achievements as a nail tech?
BR: One of my proudest moments as a nail tech is seeing my clientele build and my work speak for its own. When I first started nails, I had about five to 10 clients in a week, I now have 15 to 20 clients a week. Also, building my Instagram and trying to create content.
NP: What do you love about the nail community/industry? 
BR: What I love about the nail community is that everyone can relate somehow. Also, being able to recreate others' work, acknowledge their talent and add your own ideas to create beautiful nails is amazing. It's honestly one big family just supporting each other in different ways.
NP: What are your top goals as a nail tech?
BR: My top goal as a nail tech is to be able to start teaching one day and be able to help others become nail technicians. I love to help others find their passion. 
Follow us on Instagram and subscribe to our free daily newsletter to receive the latest news for nail professionals.