30 Under 30 Spotlight: Carly Hendershot 
Get to know Utah-based nail tech and The Nail Suite Owner Carly Hendershot (@nailsbycarhendy). 
Read our November/December 2022 digital magazine to see the complete list of 30 Under 30 winners.
Q&A 
Nailpro (NP): Tell me a little bit about yourself! How did you get started, and why did you choose to become a nail tech? 
Carly Hendershot (CH): For as long as I can remember, I have always had an adventurous spirit, always trying to reach the next goal and chasing whatever it is that is in front of me. I thrive on the hustle. Around the age of 16, I started experimenting with acrylic and loved practicing on myself. That soon led to playing with hand-painted nail art and working with gel. It wasn't until I turned 25 that I decided to take it seriously by going to nail school, getting my license and turning this small hobby into a career. At the time, I didn't think I could make a career out of it, but I was tired of my current job and figured that I could do nails on the side while I worked toward my ultimate goal of becoming a pilot. I had already taken my intro flight and thought that the path was clear. Little did I know that by the time I graduated nail school, I was already so invested I didn't even have time to think about flying. I have a passion for hand-painting nail art and all of the creative freedom that comes with it. I also love sculpting with hard gel on forms and creating beautiful structured gel manicures (overlays). The reward from seeing healthy beautiful natural nails with gorgeous length is unmatched!      
NP: What is the toughest part about your job as a nail technician/nail artist/salon owner?
CH: I would have to say that the toughest part about my job as a nail tech would be time management. It's so exciting to be my own boss and be able to work whenever I want, but I didn't realize becoming my own boss would also mean working 24/7. I would say about 60% of my time is spent in my salon actually sitting down with clients and the other 40% is spent replying to messages, working with cancellations, continuing my education, cleaning, doing inventory/ordering products, navigating social media, etc. There is a lot more that goes into doing nails than just doing nails. 
NP: What do you love about your job?
CH: Two things stick out to me right away: I genuinely love the relationships that I get to build with my clients, and I love creating beautiful art on small canvases. It is such a rewarding job that sometimes I forget it is work.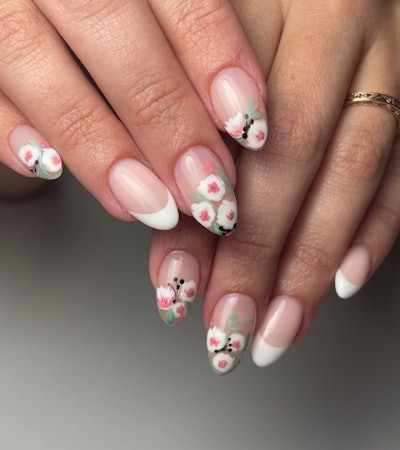 NP: Where do you find inspiration?
CH: I find inspiration all around me. Most of the time, I find inspiration in something super small, like a cute pattern on a phone case and think to myself, 'I bet I could make a set of nails out of that!' My family also inspires me every day and are the ones that push me to be my best and keep going when it gets tough. 
NP: What is a piece of advice you would give other nail technicians who are just getting started? 
CH: The best piece of advice I could give would be never give up, and don't compare yourself to others. Everyone is on their own journey. Set small goals, and when you reach one, shoot for the next one. I found a quote while I was going to nail school that really resonated with me and kept me focused: "Hold the vision. Trust the process." You can do anything that you set your mind to.  
NP: What is a tip you have about any technique, service, business, etc.?
CH: If you find yourself feeling rushed or making tiny mistakes, don't be afraid to slow down. The end result is always worth it. If you feel like you are too slow and want to improve your time, keep your eye on the clock. Track how long it takes you for prep work, shaping, application and art. Then, focus on each category, and practice new techniques or hacks that will help your speed while still maintaining safety and quality work. When it comes to nail art, cure between each layer or color, and don't do too much at once without curing – that way if you make a mistake, you can wipe it clean and save your previously cured work without having to start over. 
NP: What is your favorite nail trend right now?
CH: My favorite trend right now is probably all the bright colorful mismatch nails with a different fun design on each finger. 
NP: What is your favorite service to offer?
CH: Structured Gel Manicure (overlay)
NP: Who is your role model?
CH: I have been lucky to have many people in my life that I look up to and have influenced me. One of my biggest role models in my life has been my grandpa. He was driven and successful in everything he did, all while doing everything he could to help others and be kind. I think about him daily, and his example is something I will always strive for. 
NP: What is one of your proudest achievements as a nail tech?
CH: One of my proudest achievements as a nail tech was probably reaching a full clientele and being able to close my books. I had set a goal when I graduated school to reach a full clientele within a certain amount of time and to be able to do it sooner was even better. It was my very first big achievement as a nail tech. 
NP: What do you love about the nail community/industry?
CH: Honestly what I love most about the nail community is the willingness to share and help others all the time. Sometimes I feel like we are all just one big family that truly wants the best for each other and wants nothing more than to see each other succeed. It's also so rewarding to see artists give recognition to other artists that inspired them on a set. 
NP: What are your top goals as a nail tech?
CH: My top goals right now are to expand my salon and get my instructor's license. I love the education side of nails, and I would love to teach what I know to others that are interested in becoming a nail tech! I am passionate about quality work and safety, and I would love to pass that same passion on to any artist that comes through my door.
Follow us on Instagram and subscribe to our free daily newsletter to receive the latest news for nail professionals.