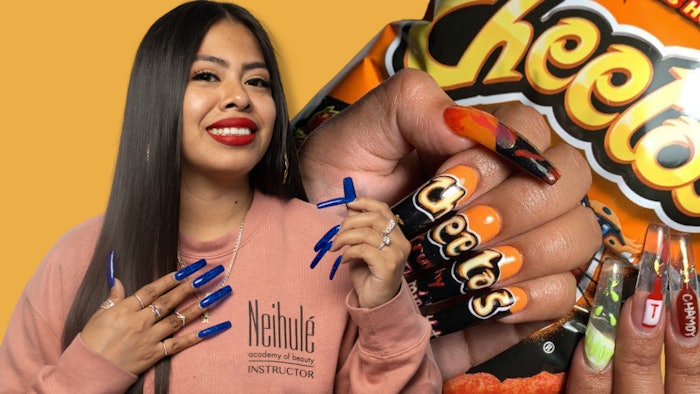 30 Under 30 Spotlight: Ceci Sanchez
Get to know Los Angeles-based nail tech and educator Ceci Sanchez (@nails_by_ceci).
Read our November/December 2022 digital magazine to see the complete list of 30 Under 30 winners.
Q&A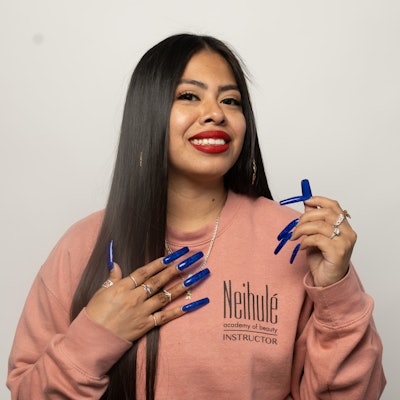 Nailpro (NP): Tell me a little bit about yourself! How did you get started, and why did you choose to become a nail tech?
Ceci Sanchez (CS): I've been in the industry almost 10 years! I started in August 2012. I've always loved doing my nails, even as a little girl in 5th grade. I would do water decals or buy press-ons and design them or design my natural nails. Going to school for cosmetology, I fell in love with doing my own nails, so I knew this is what I wanted to do. I know how good clients feel when they get their nails done because that's the amazing feeling I get when I do my own. It just puts you in an overall amazing mood! I also fell in love with sculpted sets and all the art, so that's what I focus on. I'm a perfectionist, so clients appreciate that. Doing nails is my favorite pastime, I can literally do nails for hours and hours. I've worked really hard to get to where I'm at. I'm also the lead nail instructor for Neihule Academy of Beauty. Being able to teach students what took me so long to learn and helping them as much as I can so they can succeed and get their license makes me proud.
NP: What is the toughest part about your job as a nail technician/nail artist/salon owner? 
CS: I would have to say balancing life and nails. Being a mom, nail artist and lead nail instructor can definitely be challenging when everyone wants your attention and trying to split your time with everyone while also taking care of yourself. I love my clients and doing their nails coming up with ideas together. I love teaching and helping my students, not only when they're in school but even after they graduate and get their license or if they have a quick question, I'll answer their messages. I love spending quality time with my son and fiancée and enjoying life, so setting a time for all of it is not always easy when you genuinely love doing it all. 
NP: What do you love about your job? 
CS: As a nail artist, I love that my clients have become like family. They can come in with an idea or not, creating a masterpiece and making them happy makes me feel happy. As a nail instructor, I love that I can help students with more than just nails and a license, I'm helping someone follow their dreams! 
NP: Where do you find inspiration? 
CS: Literally EVERYWHERE I go. It could be flowers, plants, crystals, rocks, beautiful scenery, a pretty plate, food, colorful haircuts or hairstyles, even animals as small as fish at the aquarium. I see everything and envision how I can put that on nails. I make nails come to life with inspo from anywhere to create a story.
NP: What is a piece of advice you would give other nail technicians who are just getting started?
CS: Trust, believe in yourself and also have patience with yourself! Practice, practice, practice! A lot of times when you're just starting, you get discouraged or frustrated because it doesn't come out looking good the first time around. It doesn't always happen after the first, second, or third try, and that's okay, so don't be so hard on yourself. 
NP: What is a tip you have about any technique, service, business, etc.?
CS: Trust and believe that you will get better but also put in the work to do so. You learn a lot along the way, so always keep an open mind to trying new techniques, and don't give up! Also, staying up to date with nail trends while setting your signature nails. I think this applies to learning a new technique, your services and creating your business. 
NP: What is your favorite nail trend right now?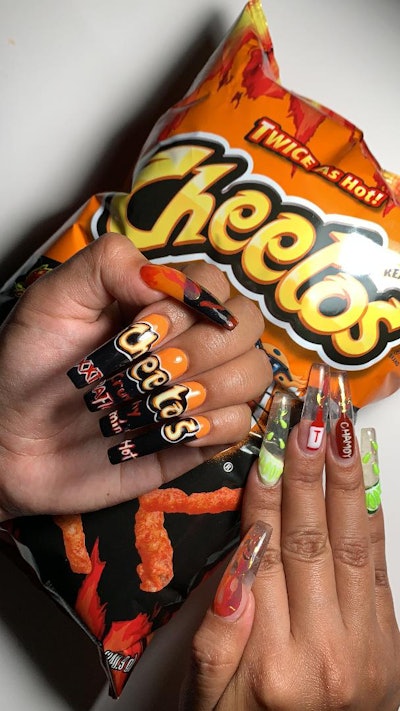 CS: Piercings!! They are like custom jewelry for your nails! 
NP: What is your favorite service to offer? 
CS: Hard gel with intricate or freestyle nail art. I can get lost in time doing nail art all day. 
NP: Who is your role model? 
CS: Definitely my mom. Growing up with three siblings and her as a single mother, I saw how hard she worked to provide for us. She is always willing to help anyone in need in any possible way she can. Even when life gets rough, (which happens) she continues to live life stronger than before. I am the woman I am today because of her. 
NP: What is one of your proudest achievements as a nail tech?
CS: In 2019, I broke both thumbs six months apart — one in February (my left) and the other in August (my right), both unrelated. I was crushed when I found out my right one was broken after healing from my left thumb break. Being a nail artist, I thought I would never be able to do nail art and that hurt more than the broken finger. I healed and pushed myself into doing more intricate hand drawn nail art. Fast forward to a year later, I did my Hot Cheetos nails on myself, hand drawing the Cheetos logo, and that was my proud moment. Despite breaking both thumbs, I was able to hand draw and bring two things I love together. I can draw with a steady hand again. 
NP: What do you love about the nail community/industry? 
CS: That everyone is always so welcoming in the sense that you can just vibe with anyone in the industry, whether they are just starting or have been doing nails for a long time. I love that everyone just supports each other. 
NP: What are your top goals as a nail tech? 
CS: To inspire! I'm both a nail artist and educator, so I can blend both to inspire as many nail techs as I possibly can. I don't see myself not being able to accomplish what I set myself up to. The word impossible does not work for me, no matter how long it takes, I like the challenge. I never stop learning, so I'd love to see where I'm at in the next 5-10 years. Like I say, love what you do, be passionate about it, give it your all, or don't do it at all.
Follow us on Instagram and subscribe to our free daily newsletter to receive the latest news for nail professionals.