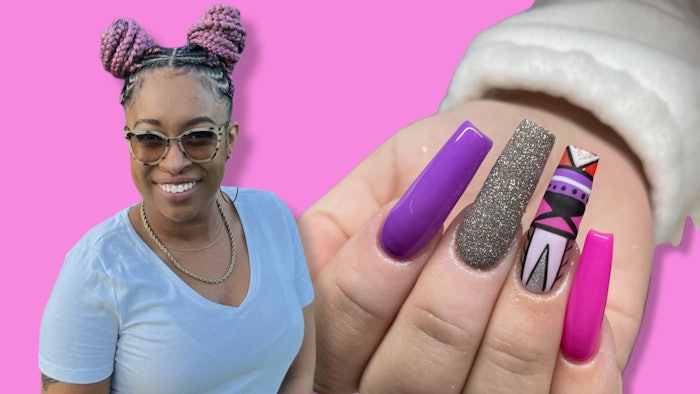 30 Under 30 Spotlight: Brionna Moore
Get to know Pennsylvania-based nail tech and Nails Down Under Owner Brionna Moore (@brionnalmoore).  
Read our November/December 2022 digital magazine to see the complete list of 30 Under 30 winners.
Q&A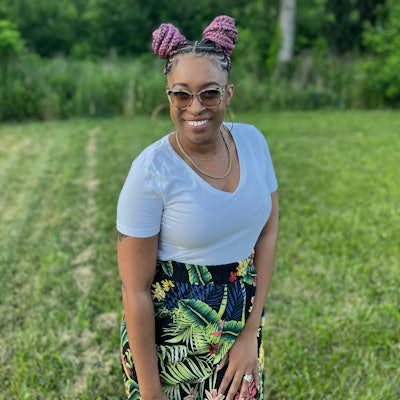 Nailpro (NP):
Tell me a little bit about yourself! How did you get started, and why did you choose to become a nail tech?
Brionna Moore (BM): I'm a mama/wife who is multi-passionate about different aspects of the beauty industry. I started out doing my own nails because my mom told me she was tired of paying for my nails. She bought me a nail kit, which led to my hustle on campus on my bedroom dorm floor and later transitioned into her basement, which is where I got the name Nails Down Under. The nail tech life was just a part of me. I gained a love for the craft, even down to educating my clients on why they need proper nail care. 
NP: What is the toughest part about your job as a nail technician/nail artist/salon owner?
BM: The toughest part being a salon owner is all of the many hats I wear, such as keeping up with my books for accounting down to making sure I'm setting the proper pay per service. 
NP: What do you love about your job?
BM: I get to connect with so many amazing souls and live in a moment of their life they share with me for an hour to an hour-and-a-half, and I can encourage and educate them while providing a luxury service. 
NP: Where do you find inspiration?
BM: I find inspiration everywhere but mainly online.
NP: What is a piece of advice you would give other nail technicians who are just getting started?
BM: The advice I would give to a new nail tech is set small goals and not only put in the work but believe that you can do it and great things will come.
NP: What is a tip you have about any technique, service, business, etc.?
BM: A tip I would give to someone is don't be afraid to reach out to anyone with a question or advice. The worst thing they could tell you is no. Another tip about providing a service would be to find what medium you're really good with and stick with it. It's okay to not offer every service the nail industry offers. 
NP: What is your favorite nail trend right now?
BM: My favorite trend is of course swirls! It's something you can make your own and is simple enough for everyone to achieve no matter how new you are in the industry.
NP: What is your favorite service to offer? 
BM: My favorite service to offer is a structured manicure. I love that I can help my client grow her natural nails. 
NP: Who is your role model?
BM: Jenna Kutcher – She's a boss babe.
NP: What is one of your proudest achievements as a nail tech?
BM: Opening my salon which led to so many endless opportunities, no matter how big or small.
NP: What do you love about the nail community/industry?
BM: I love that you can dibble and dabble in so many different parts of the industry, like being a nail artist or a nail blogger. The realms are endless. 
NP: What are your top goals as a nail tech?
BM: My top goal is to help make a positive impact and help other nail techs continue to create a positive space. 
Follow us on Instagram and subscribe to our free daily newsletter to receive the latest news for nail professionals.