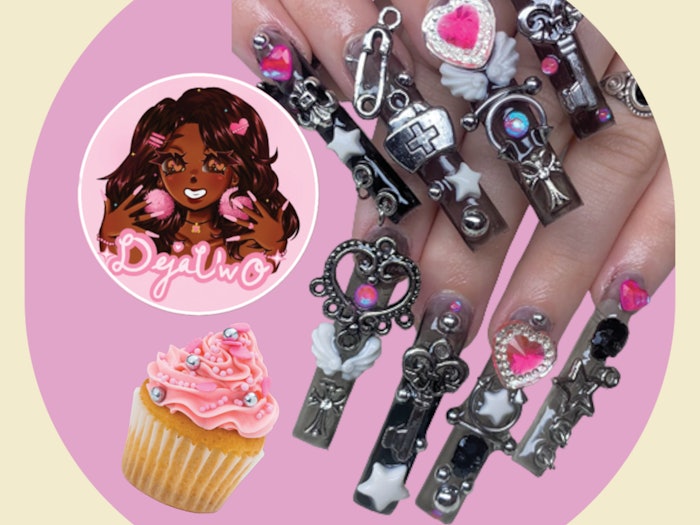 Hi! I'm Deja Joseph (@dejauwo), a 22-year-old nail technician based in South Florida. I've loved art and expressing myself through my creativity since I was 11 years old, and drawing and painting have remained my passions ever since.
I was first introduced to the beautiful world of acrylic nail art in 2020, and I was hooked immediately. I watched YouTube videos of nail technicians, then moved on to practicing on myself. I became officially licensed in October 2020, and I love my job! Being a nail technician has provided me with a beautiful medium to create my art and amazing clients who love creativity just as much as I do.
Check out all of Joseph's designs in the latest issue of Nailpro!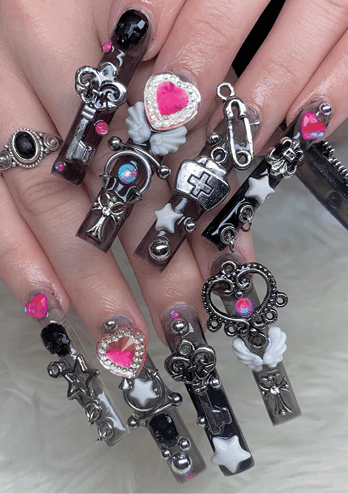 1. Sweets & Desserts: I have a natural sweet tooth, so I'm obsessed with creating nail art that looks good enough to eat! I use little candy charms to create 3D ice cream cones and cookies. The nail set above was inspired by a vintage cake with whipped frosting!
2. Gothic Aesthetics: I've always loved darker and moodier nail sets. Decking out nails with metallic components, rhinestones, pearls and cute charms I happen to find at local craft stores is so enjoyable! 
3. Anime & Video Games: As a child, I played any video game I could get my hands on, and video game aesthetics have greatly inspired me throughout my artistic journey. Anime inspires a lot of my hand-painted nail art. My clients share my enthusiasm for anime, so it's one of my most popular nail art requests!
4. Kawaii Aesthetics: I'm inspired by anything cute! Kawaii is the culture of cuteness in Japan. I get a ton of inspiration from charming Japanese and Korean nail art. I'm excited that the high-quality gel products from those regions have become more widely available in the U.S.
5. Pink and Black: I like the dynamism between vibrant pinks and edgy yet classy blacks. My two favorite colors are pink and black, and I use both frequently in my nail art. The combination offers endless opportunities to explore.
Follow us on Instagram and subscribe to our free daily newsletter to receive the latest news for nail professionals.