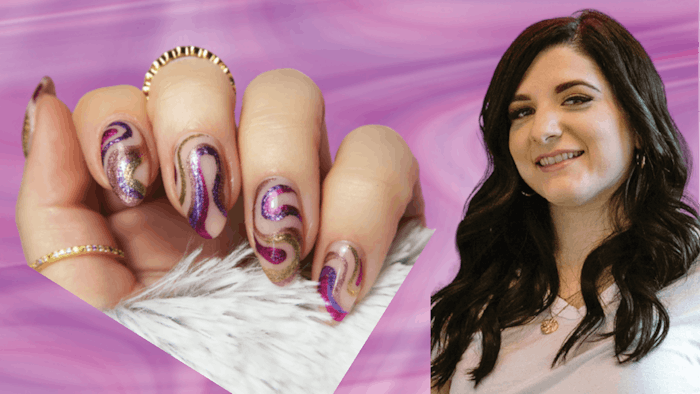 Courtesy of Katie Dutra (@nailsbykatiedutra)
Nail artist Katie Dutra (@nailsbykatiedutra) shares five things that inspires her nail designs.
Hi, I'm Katie Dutra. I grew up in Oregon and have a studio outside of Portland. I got licensed in Feb 2012, over 10 years ago now! I received my full cosmetology license, but nails stole my heart as they allowed me to express my creativity in exciting ways. I remember getting hard gel nails. I loved seeing the process and all the fun colors and glitters. As I've developed my skills, I also started a YouTube channel, so I could share my journey and help other nail techs along the way. Social media is an amazing way to connect with other nail techs, get inspired and learn new techniques. I have now recently started educating online and helping other nail techs elevate their gel nails services. I am happy that I can give back to the community and help other nail techs be successful!
1. Florals & Plants 


Floral nails are one of my favorite styles, as they can be adapted to any season or color combination. They can look so soft and delicate or fun and vibrant. There really is no wrong way to paint florals! You can find inspiration for florals in nature, paintings and more. The inspo for these florals actually came from my client's water bottle.
2. Pinterest Patterns


Pinterest is loaded with amazing wallpaper pattern designs. I love finding unique and fun patterns to base my designs. Using photos like this really help develop your own style and creativity. This lemon pattern really stood out to me. I love the pop that the yellow lemons have against this color background. You can also see the highlights and shading, which take nail designs to the next level!
3. Abstract 


Abstract looks are fun and exciting, especially because there are so many different combinations and looks. You can mix and match colors and patterns. I love swirls, metals, shapes, textures and more. This look was made my mixing chrome powders in with a clear gel to create my own metallic gel paints!
4. Animal Print 


Animal prints are so fun and can be paired with almost any color! You can find them in nature, fashion and even decor. If you're not confident in hand-painting them, there are loads of foils and stamps with every animal print you can think of. Animal prints are so unique. You can have fun with it.
5. Stones 


Stone and marble looks are so fun to create and usually require different layers to create depth and dimension within the design. There really is no wrong way to create a stone look. My favorite thing is to add pops of metallic, like gold foil or ink. They always look so beautiful and allow me to really just go with the flow on what feels right for the design.