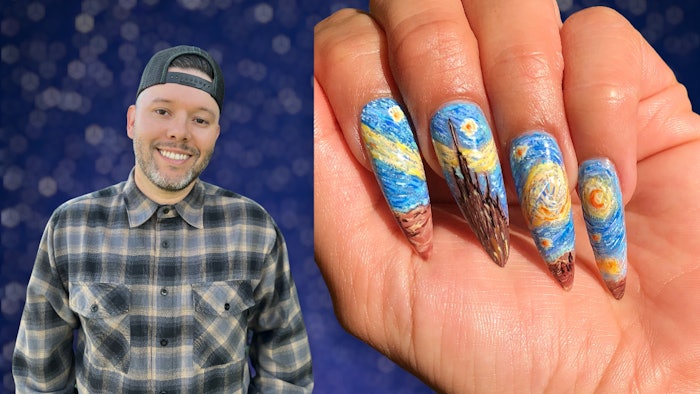 Courtesy of Fabian Robles
Nail artist Fabian Robles (@thenailvato) shares four things in his life that inspire his nail art.
My name is Fabian Robles, and I've been in the nail game for 10 years now. Before becoming a nail artist, I was working in tech and also going to cosmetology school. The plan was to do hair and work alongside my wife who is a hairstylist, but when I finished beauty school, I felt that it wasn't for me. I accidentally stumbled upon nail art on Instagram and instantly became hooked. One day I told my wife, "Let me borrow your nails, so I can try some of these cool designs on you." After many attempts, research and asking other nail techs for advice, I decided to quit my tech support job and do nails full time. Long story short, I now do nails out of a private studio in Northern California and recently became an educator for LECHAT.
Four Things That Inspire Me:
1. Black and Gray Portraits: I have always been intrigued by tattoos. The way the artist works with shadows and highlights to make their art look three-dimensional is fascinating. I have done portraits of different artists using black and white gel polish or gel paint. I used to search for black and gray tattoos but later learned you can take any picture and just make it black and white for inspo. I'm not going to lie – trying to fit a portrait on a small scale is a bit challenging, but knowing where to add shadows and highlights is the fun part for me.
2. Mexican Manteles / Tablecloths: Handwoven tablecloths were always a thing in our home growing up. My grandma would make them super colorful. The way she got her patterns without having the internet is mind-blowing. There is so much beauty in Mexican tablecloths. They sometimes come in one solid color or are full of bright colors and different patterns. It's the perfect place to find inspo.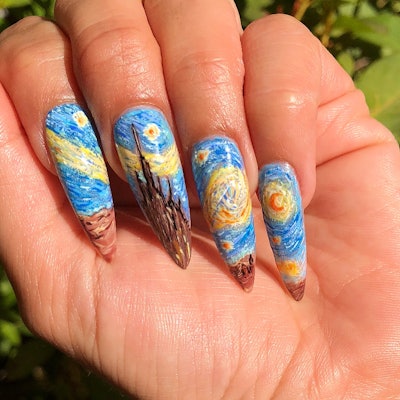 3. Vincent Van Gogh's Starry Night: By far one of my favorite nail sets to create is Vincent Van Gogh's Starry Night. I think I've recreated this painting about 4-5 times and still don't get tired of it. There are always ways to change or add to this famous painting.
4. Album Covers: I have always I love some good album cover theme nail designs. Design inspo is endless, depending on the genre. One of my first nail designs from when I started doing nail art in 2013 was art from a Snoop Dogg album.