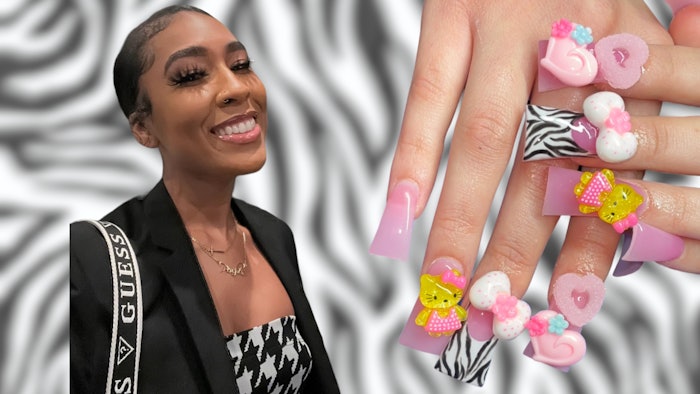 Peaches (@nailsbyprettyface), a licensed nail tech, shares four things that inspire her and her nail art.
Hi! My name is Peaches. I'm 27 years old, and I've been a licensed nail tech for nearly four years! I became licensed in June 2019 and worked in a nail shop until the COVID-19 pandemic began in March 2020. I had zero clients and was still new to my career, but I stumbled onto an opportunity to rent a suite and start my own nail business. So, the pandemic actually helped me kickstart my career and gain the clientele that I have now. I do nails full-time, and I'm a full-time YouTube content creator. I post videos about nail health as well as tutorials for my nail sets. I even taught a three-hour nail class at the 2022 Nailpro Nail Show!
Four Things That Inspire Peaches: 
Trends: My nail designs and nail art are inspired by so much. I take some inspiration from social media, but not in the way you might think. I'm not the trendiest nail tech, but sometimes I see trends that I like and try to emulate. I challenge myself to make trendy sets look like my own work rather than a straight-up copy.
Nature and Geometry: I take a lot of inspiration from the world around me. I've been artistic by nature since I was a child, and I see things as shapes, colors and designs rather than just objects. I love fluidity and freedom in swirls and other geometric designs, so I often use those in my art.
Nail Health: I'm hugely inspired by nail educators and nail health. I take my craft very seriously, and I can't enjoy doing nail art on unhealthy nails. Healthy nails bring me joy and inspire me to keep doing my best!
Client and Personal Style: The last two sources of inspiration are my clients and my personal style. I absolutely love when my clients recognize my style in the sets I create. I really enjoy the process of combining my clients' personalities with my artistic style, and I feel that uniqueness really shows in my work!
You can see more nail art from Peaches by reading Nailpro's January/February 2023 issue.