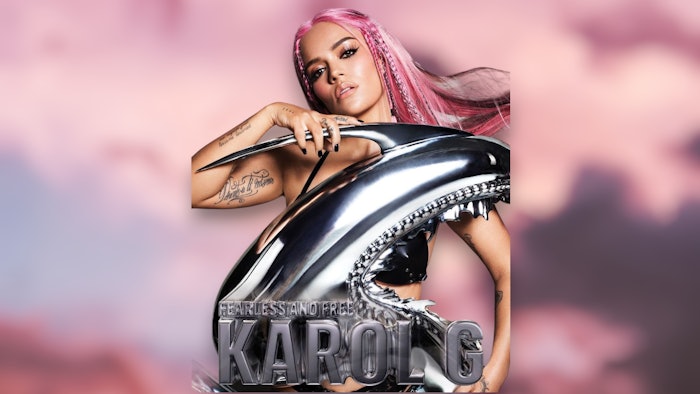 Courtesy of Rolling Stone and Emi Kudo
Superstar Karol G is on the cover of September's Rolling Stone. 
The charming yet down-to-Earth powerhouse, who is about to launch a U.S. stadium tour, coming off a Lollapalooza performance and the release of her follow-up album "Bichota Season," chats about everything from the surreality of being able to reach so many with her music to how her break-up with fiance Anuel AA inspired her March album "Mañana Será Bonito." 
Manicurist Emi Kudo (@nailsbyemikudo) styled Karol G's nails in a simple yet edgy glossy black style for the cover shoot, using gel products from the 10-free pro nail care brand Paris Lash Academy. 
Karol G is wearing the "Jet Black" shade, a true, glossy rich black, which Kudo says was the perfect accent to the silver mesh outfit Karol is wearing — and a great complement to her bubblegum pink hair and thick, rich eyeliner and lashes. 
If you want to recreate this look for your clients, look no further. Follow the step-by-step tutorial from Kudo below. 
How-To: 
File the nails into a square shape, and prep the nails for gel application by pushing back the cuticles and buffing and treating the nails to ensure the gel will adhere properly.
Apply one coat of The PLA Base Coat - a necessary step in any professional gel polish service! The base coats help the gel polish bind with the natural nail, ensuring a long-lasting, beautiful gel manicure that reduces chips or smudges. After applying the base coat, cure with an LED lamp.
After curing the base coat, apply two coats of PLA's Jet Black polish, a rich, deep black that results in a sleek, shiny manicure that is as dramatic as it is beautiful. Cure after each coat. 
Finish the look with The PLA Non Wipe Top Coat for more shine and additional protection. As this is a non-wipe formula, there is no need to remove any tacky or sticky residue after it has cured. As a final touch, apply cuticle oil and lotion before massaging the hands.