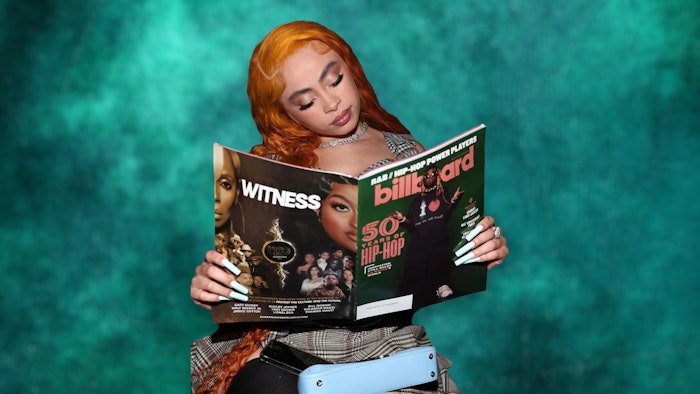 Courtesy of @sreyninpeng
At Billboard's 2023 R&B/Hip-Hop Power Players event, Ice Spice received the Rookie of the Year award. 
Ice Spice wore a gorgeous mint green manicure to the event. Her look was created by celebrity nail tech and manicurist Sreynin Peng (@sreyninpeng) using nail products from Paris Lash Academy. 
They chose the aptly named shade "It Girl," from PLA's "She's the Boss" Collection, a beautiful light green-blue shade that works perfectly for the dog days of summer! This pastel shade nearly perfectly matched Ice Spice's light blue Vivienne Westhood Amber Clutch and was a great complement to her rich caramel makeup.
If you want to learn how to recreate this manicure, look no further. Follow the tutorial below.
How-To: 
Prep the nails with one coat of PLA Base Coat - a necessary step in any professional gel polish service! The base coats help the gel polish bind with the natural nail, ensuring a long-lasting, beautiful gel manicure that reduces chips or smudges.
Apply three coats of It Girl. 
Top off the look with two coat of PLA Non-Wipe Top Coat as the finishing touch with shine and protection to the gel polish manicure. As this is a non-wipe formula, there is no need to remove any tacky or sticky residue after it has cured.