Courtesy of Bellacures
The "Barbie" movie is starting to hit theaters, and the Barbiecore trend is more popular than ever. 
If you are in the southern California or Dallas area, Bellacures has launched a special pink-themed Barbiecore Mani and Pedi service to celebrate! The service includes a Pink Himalayan Salt Softening Soak with Rose Petals, Pink Himalayan Sea Salt Scrub, Pink Himalayan Salt Buttercream and a Pink Polish of your choice. A mani is $55 and a pedi is $65.
However, regardless of where you live, Bellacures wants to help your clients that are thinking pink! Below, they share three Barbiecore-inspired nail tutorials that you can recreate to celebrate "Barbie" release weekend. 
Metallic Pink Drip Ombre 
Life in plastic is fantastic.. just like these pink abstract frenchies!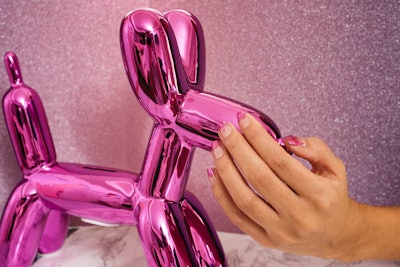 To achieve this #Barbiecore nail look, begin by completing cuticle care and filing the nails to the desired shape. For this look, Bellacures opted for a short square nail with rounded edges.
Next, prime the nails to make sure they are free of any oils and debris in preparation for the gel base coat.
Once this is done, apply clear gel base coat evenly to the entirety of the nail bed, and cure.
Apply a gel nail glue from the mids to tips of the nails. This application does not have to be perfect, as this look is going for a slightly messier foil process.
Once the glue is tacky, apply pink metallic foils to the edge of the nails, and press down to adhere.
After securing all the foils, finish off the nail with a clear gel topcoat, and cure.
Finish off by applying acetone to remove any stickiness from the top layer of the nails, and apply some cuticle oil for the hydrated pink mani of your dreams!
Pink French Tips 
These pink French tips are dreamy and drool worthy!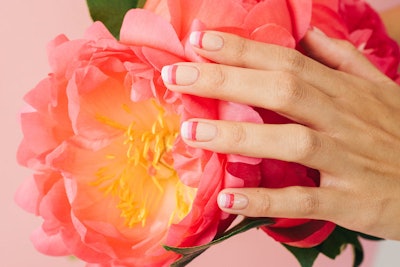 For the perfect #Barbiecore mani, always begin by completing cuticle care and filing the nails to the desired shape.
Once this is complete, apply two coats of sheer nude polish to the nail bed. For the best result, apply evenly and allow dry time in between each coat of polish.
Next, on a thin line brush, do some nearly straight line Frenchies! Taking the lightest pale pink shade, apply this to the very tips of the nails with the slightest curve at the bottom. Try to be as precise as possible when completing this step to avoid having to fix or remove any previous polish work.
Clean the brush between shades and repeat this process twice more with the next two shades of pink, moving down the nail bed a little more between each shade.
Finish off with a clear coat, and some cuticle oil for maximum shine!
Pink and White Polka Dots 
Frostie your way to the #Barbiecore mani of your dreams with this pink and white polka dots nail look.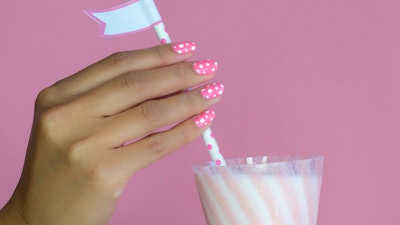 Begin by completing your cuticle care and shaping each of your nails into your desired shape.
Apply two even coats of your favorite bright pink polish. Once again, for the best application results, apply each coat evenly to the nail bed, and allow time to dry between each coat of polish.
Once your pink polish has dried, take any white polish on your nail dotting tool, and dot evenly onto the nail bed. Depending on your preference, you can make some of these polka dots bigger or smaller to add a little dimension to the look.
Top your nails off with your favorite clear coat and cuticle oil, and you are good to go!