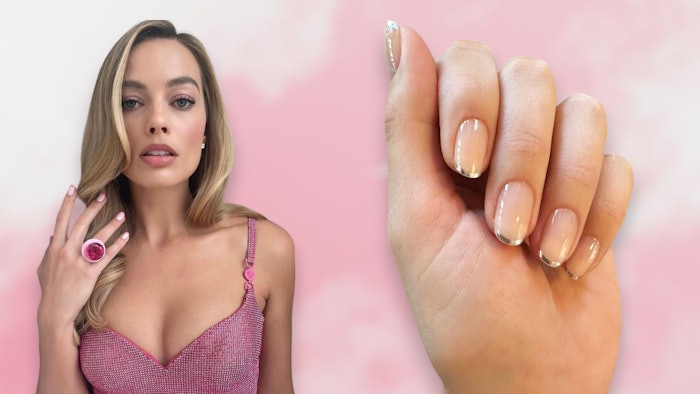 Courtesy of @hand.manicure and @tombachik
For the Barbie press tour, Margot Robbie has sported both a hot pink and chrome micro-French tip.
These eye-catching nail looks were created by Cho (@hand.manicure) and Tom Bachik (@tombachik). The two-tone pink French manicure has been drawing attention because of its barbiecore aesthetic that has been trending in honor of the upcoming release of the highly anticipated film. 
 "The correlation between the release of the Barbie movie and the rise in beauty trends associated with pink is undeniable," Liana Thomson, nails.co.uk nail expert explains. "Our analysis of Google Trends data reveals during the last year, the term 'barbiecore' reached its peak in popularity during the final week of June. Interestingly, while the highest surge in searches for 'pink nails' occurred in mid-October, the second most significant spike for this search term took place in the second-to-last week of June 2023."
With pink nail looks being all the rage, your clients may want you to bring Robbie's French tips to life on their nails. If you are in need of a tutorial, look no further. Thomson shares her step-by-step tutorial for how to bring this look to life. 
How-To: 
Begin by gently removing any existing nail polish, and shape nails to desired length. Push back cuticles for a tidy and refined look, while also promoting healthy nail growth.
Next, it's time to apply a base polish, which plays a crucial role in protecting the nail bed and preventing any potential staining caused by colored polish. After this apply a natural, pale pink colored polish to all of the nails.
Once dry, follow up with your statement part to the look: a thin micro-French tip on every nail. A great way to achieve a French tip is through a thin small brush that you dip in the nail polish, but if you don't feel confident in doing this freehand, a great alternative is to use clear tape to get a smooth tip.
Once your complete nail design is dry to the touch, apply a top coat to ensure a smooth surface and protect the look from chipping or scratching.