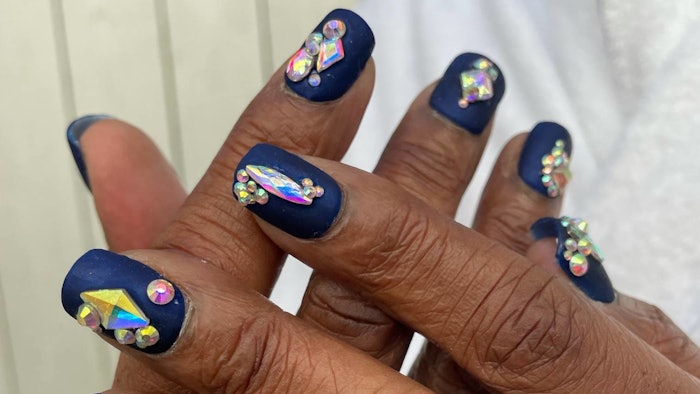 Courtesy of @cndworld
Celebrity manicurist 

Vanessa McCullough

 created a nail look for 

Billy Porter

 using CND for the American Music Awards!
How-To
Apply Patti Yankee Inspire press-on nails.
Shorten the length, and give the nails a nice soft square shape.
Apply two coats of 

CND Shellac in Sassy Sapphire

 
Then apply one coat of 

CND DuraForce Top Coat

 to adhere the crystals onto all 10 fingers with the crystals.
Lastly, apply a Matte Top Coat over the look to make the crystals pop.
Q&A With Vanessa
Can you share more about the inspiration behind this look?
"The inspiration for his nails came directly from Billy's outfit and from what I know he likes and does not like. With an umbrella hat, I initially thought raindrops were a good option. Instead, I went less literal and went with 'the drip.' My man's nails were dripping with all of those crystals. I wanted his nails to really shine and pop and be eye catching. Billy loves the attention his nails get but does not like anything dangling off of them or anything that will interrupt the his activity, in this case, presenting. Crystal embellishments were the way to go this time!"
How did you choose where to place the crystals?
"When I work with Billy, I typically present him with a bunch of ideas that I have and then share my favorites for him to choose from. The mock-up nail I presented to Billy for this look had the crystals laying along the cuticle line. I explained that I envisioned these crystals flowing over the nails not just in the cuticle line. I placed each crystal down so it felt like it was flowing from finger to finger. Some nails had crystals in the tip, some along the side, some along the cuticle line, and so on. All of this atop Sassy Sapphire by CND with matte top coat. 
What products could be used in place of the Inspire press-on nails?
"To achieve length, you can use any full coverage nail tip for this look. The shape is filed in a soft square, slightly tapered look, which helps elongate the nail plate."