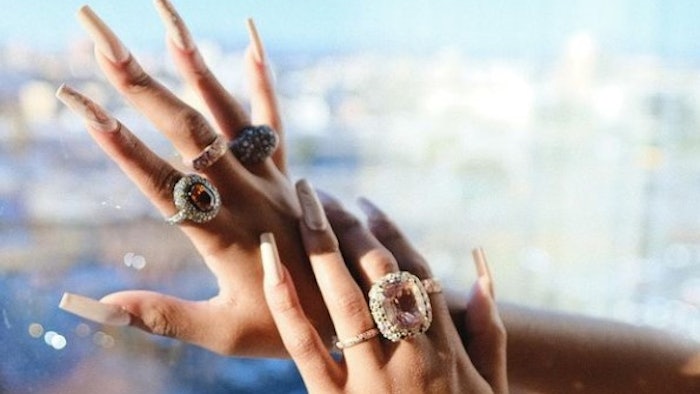 Courtesy of @marsaimartin
This year's American Music Awards (AMAs) came through with no shortage of fabulous nail looks!
Marble nails were trending on this year's red carpet. Our favorites were the sets worn by Marsai Martin and Iann Dior.
Both looks were achieved using OPI nail products.
Get Marsai's Look: 
After cleaning and prepping nails with OPI N.A.S. 99 Nail Cleansing Solution, apply OPI GelColor Stay Classic Base Coat.
Cure for 30 seconds in the OPI STAR LIGHT Gel Lamp.
Apply OPI GelColor in Coconut Over OPI, cure for 30 seconds, and repeat the process.
On the pointer and ring fingers, apply a thin layer of OPI GelColor Stay Classic Base Coat over the nails, and draw a thin curved line with GelColor in Snow Day in LA and another line with OPI GelColor in Chocolate Moose.
Using a detail brush, gently drag them in waves to create a marble look, and cure them for 30 seconds.
Finish by applying with OPI GelColor Matte Coat, and cure for 30 seconds. 
Get Iann's Look: