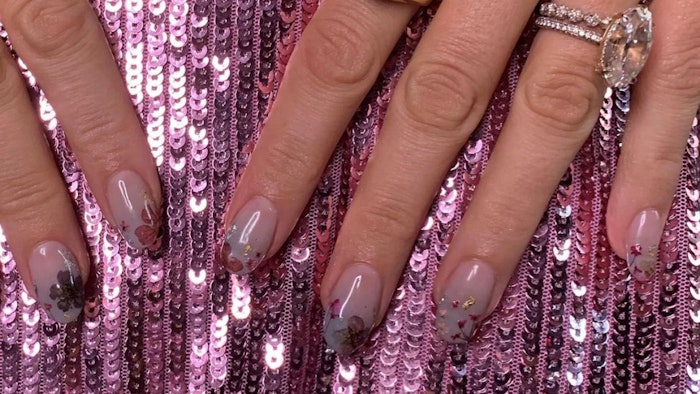 Courtesy of @enamelle
Elle, a celebrity nail stylist, gave Blake Lively a cute flower nail set to wear to the Free Guy premiere.
She had this to say about her sessions with Blake: "Blake and I always collaborate on her looks—we have a close relationship and have been working together for so many years. We planned this look about a week ago after having multiple FaceTimes and sending each other mood boards back and forth. Blake had sent me pictures of the dress, which was a sequined Prabal Gurung, and she wanted a look that was sweet but edgy. We usually draw inspiration from the movie promos and try to match the theme, but this time, we decided that did not work. We went off the dress instead, opting for pressed flowers paired with a more rock and roll style. I love that it was innocent with a wild edge, breaking away from what she usually does."
Here is how to get Blake's look:
Apply a full set of gel tips using LeChat Liquid Gel Builder in Clear.
File and shape the nails into an oval shape.
Paint the tips with LeChat Perfect Match Smoke Show, which is a slate gray cream. Then paint the middle of the nail with Smoke Show again, making it thinner and painting it up to the top, creating an ombre effect.
Apply a very sheer coat of LeChat Perfect Match Simply Me (launching in the fall 2021 collection), which is a light pink, just to blend it out and warm up the gray.
Apply tiny pressed flowers, first soaking them in alcohol to soften them up and case them into the gel.
Add small bits of gold and silver foil to the nail for shine.
Finish with a top coat, cured for 30 seconds, and LeChat CBD Cuticle Oil.