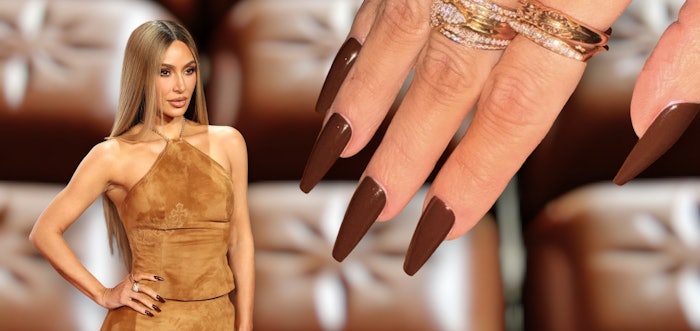 Courtesy of Brittney Boyce (@nails_of_la)
Kim Kardashian received the Tycoon of the Year Award at the GQ Men of the Year Event. 
She walked the red carpet in a tan dress from Chrome Hearts. To compliment her look, nail artist Brittney Boyce (@nails_of_la) created a chocolate manicure, using products from CND. 
Follow the step-by-step tutorial below to recreate this fall look for your clients. 
How-To: 
Begin with nail prep.
Apply a layer of CND PLEXIGEL Bonder and cure in the CND LED Lamp. 
Using CND Future Forms with CND PLEXIGEL Builder, build nail length and shape to a long coffin tip. Cure.
Clean the nail with 99% IPA, shape and refine with a buffer. Clean again.
Apply three layers of CND Shellac shade Leather Goods, curing between layers.
Seal with a layer of CND Shellac No-Wipe+ Top Coat. Cure.
Moisturize with CND Solar Oil to condition nails and cuticles.