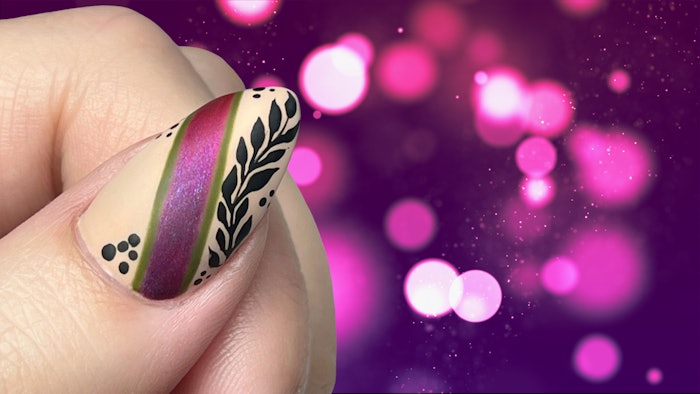 Courtesy of Hope Jung and Light Elegance
Fall is here, which means you are likely using more earthy tones this time of year to create stunning nail art.
If you are in need of inspo for how to take fall neutrals and make them pop, look no further. Nail artist and educator Hope Jung (@hopejungnails) created a gorgeous fall ombré using products from Light Elegance's LE Rocks Collection. 
Follow the step-by-step tutorial to bring this look to life. 
How-To: 
Using the #6 Oval Bling Brush, apply a base layer of nude polish.  
With a stripy brush, create a diagonal rectangle using Stone Cold blending into I Lava You for a soft ombré.
Outline the rectangle with Rock My World with a shorty nail art brush.
With black gel paint, accent the negative space with assorted dots using a bling stylus. 
With a stripy brush, create a thin, waved line accented with tear dropped leaves to create a soft ivy.
Finish with matte or shiny top coat to create the finish of your choice.