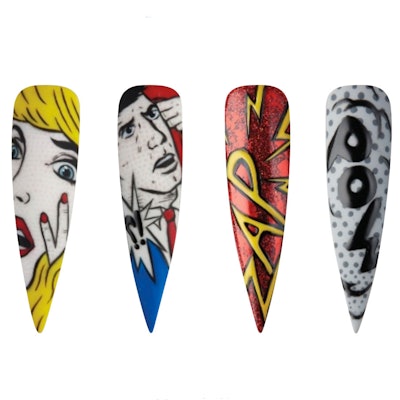 "Everyone wishes they had a superpower. For some, rocking a dramatic set of claws is that power. This set reminds me of some reactions and words you'd experience when you flash—or flip— your fingers at the world," says guest nail artist Alec Cole Hinz.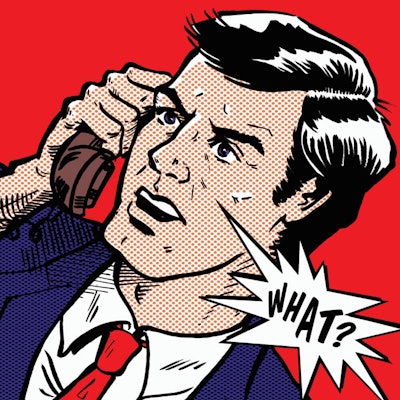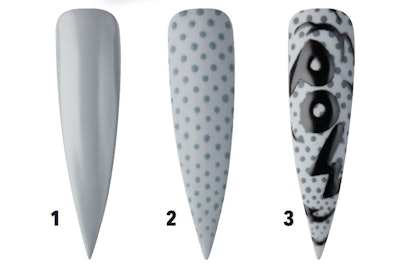 Step 1) Apply two coats of light gray gel polish.
Step 2) Use a dotting tool to create a polka-dot pattern across the nail with dark gray gel polish. Apply matte gel top coat.
Step 3) Paint the word "Pow" in block letters down the nail with black gel. Allow some of the letters to bleed off the nail. Add curved black accent lines around the word. Then, use a detail brush to apply glossy top coat to the black gel only.
RELATED: Guest Artist Alec Hinz Creates Wild-West Runway-Inspired Tips
TIP!
Cure a pattern like this section by section to keep the gel from traveling.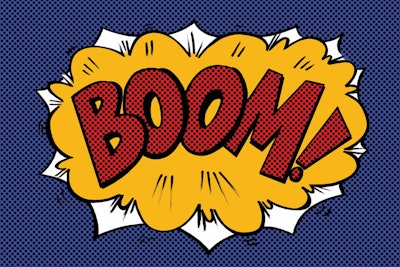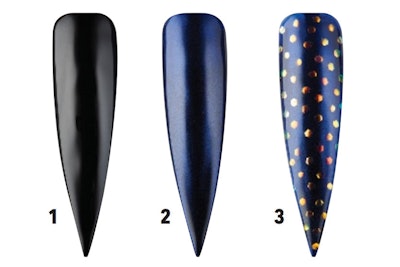 Step 1) Apply one coat of black gel polish. Then, apply no-wipe top coat.
RELATED: Nail Art Inspired by the Glitter and Sparkle on the Runway
Step 2) Coat the entire nail with blue chrome pigment powder using a makeup sponge or silicone tool. Apply a thin layer of glossy gel top coat.
Step 3) Apply large pieces of metallic glitter in an evenly spaced polka-dot pattern onto the tacky layer. After curing, apply a second (more generous) layer of glossy gel top coat for a smooth finish.
*Cure after every gel application unless otherwise noted.
–by Angelina Lewis
This story first appeared in the March issue of Nailpro magazine. To receive the magazine, click here to subscribe.
[Images: Courtesy of Brooks Ayola; Getty Images]