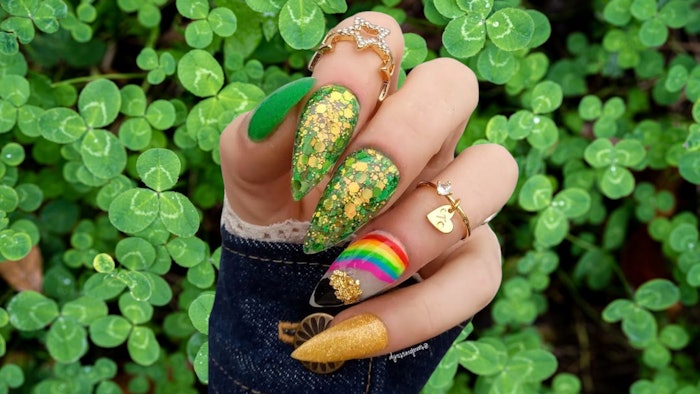 Happy St. Patrick's Day! 
Celebrated on March 17 each year, the holiday commemorates the patron saint of Ireland. Celebrated in more countries than any other festival, St. Patrick's Day celebrations take place in Ireland, the United States, United Kingdom, Canada, Argentina, Australia, South Africa and New Zealand, especially amongst Irish diaspora. Irish heritage and culture is celebrated through parades, festivals, wearing green attire and the display of shamrocks at festivities. 
To celebrate St. Patrick's Day, Nailpro is rounding up seven nail designs inspired by the holiday. Get the inspo below. 
@nailedbyrebeka 
Pennsylvania-based nail artist @nailedbyrebeka created a golden French tip nail design that also features rainbows and four-leaf clovers. 
You can see what products she used to prep and create the nail look below. 
@taralovestodip 
Self-taught nail artist @taralovestodip created a glittery green and gold manicure that features nail art of a pot of gold under a rainbow. 
She used Dipnotics Nails Irish for a Day collection to create her look. 
"I love the shifts in this chucky glitter so much," she said. "I also had a lot of fun painting the accent nail." 
You can see the entire list of products used to create the look below. 
@sunny_t_nails 
California-based nail artist @sunny_t_nails created a "Lucky" St. Patrick's Day manicure featuring shamrocks, rainbows and glittery green and gold accent nails. 
@hammys.manis 
Nail dip artist @hammys.manis created a mani featuring a dark and light green dip, rainbow sequins and a green shamrock. 
You can see the full list of products and tools used to create the look below. 
@rebelle.nailco 
Canada-based nail tech @rebelle.nailco created a mix 'n match St. Patrick's Day nail set that features green and gold shamrocks, green and gold plaid and marble nail art, as well as a solid green accent nail.
 You can swipe right on her post below to see a close-up of the nail art. 
@em_nailedit 
U.K.-based nail artist @em_nailedit created a BIAB manicure featuring green French tips, green and gold swirls and four-leaf clovers. 
You can see what products were used to create the look below. 
@miss_eclipse2303 
Nail enthusiast and content creator @miss_eclipse2303 created a glam gel marble nail design. The pointer finger contains a golden beaded outline on a sparkly green nail. The middle and ring finger have a rainbow marble design, outlined in gold. The final finger pictured contains a gorgeous swirly shamrock nail design. 
You can see what products were used to create the look below.