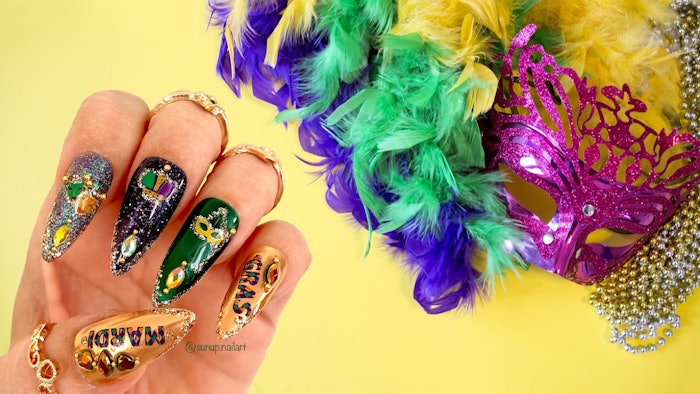 Happy Mardi Gras! 
Also known as Carnival or Carnaval, Mardi Gras is celebrated in many countries around the world on the day before the religious season of Lent begins. A time for celebration and merry-making, those who celebrate typically indulge in Cajun food and paczkis before beginning a period of fasting starting the next day on Ash Wednesday. 
Nailpro is celebrating Mardi Gras this year by rounding up five nail looks inspired by the holiday. Get the inspo below. 
@natthenailbrat
Houston, Texas-based nail artist @natthenailbrat created an acrylic nail set for Mardi Gras using products from Dynamic Nail Supply and UT Nails Supply, featuring fleur-de-lis charms. 
She told Nailpro that one her clients inspired her to create the nail look. 
"She's from New Orleans and will not be participating [in Mardi Gras] this year. She's been homesick, so I wanted my client to have a piece of home," she said. "I love Mardi Gras nails more than any holiday look! It's fun and festive and has no limits." 
@pickynailart
Nail artist Tracey H (@pickynailart) created masquerade nail art using nail stamps. You can see her post below to find out what products she used to create the look. 
@sunup.nailart
@sunup.nailart created press-on cat-eye nails using UV gel and chrome polish.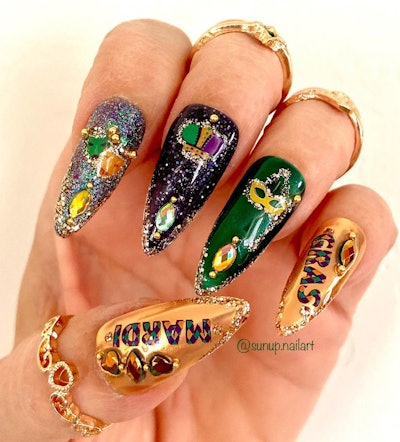 @ra3ofsunshin3nails
Rachel Nix (@ra3ofsunshin3nails) created a Mardi Gras nail set using reflective gel polish from CND and Wildflowers.
"It's not very often that I do Mardi Gras nails. It is a holiday that is often overlooked when it comes to nail art," Nix tells Nailpro. "[My client] was going to New Orleans for vacation and insisted on having crawfish on her nails." 
@seassuns_nails
Las Vegas-based nail art @seassuns_nails created a nail set that features Mardi Gras beads. She used Acrylic from Young Nails to build her base. 
"My client was going on a Mardi Gras trip and wanted a fun, exciting set. I got to thinking 'What's better than flat purple, green and gold beads and foils to make a colorful set to match the greatest festival out there," she said. "Mardi Gras nails are fun and exciting. I love the way you can play with colors and make such a fun set."