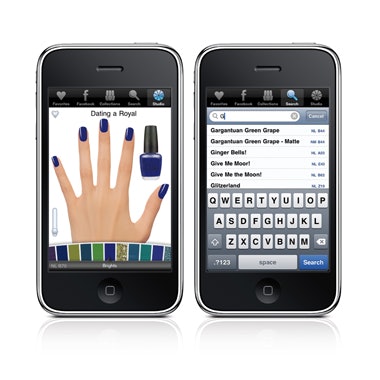 OPI announces the re-launch of the OPI Application for the iPhone and iPod Touch. The updated OPI App continues to offer an easy, free way to browse and search over 200 OPI nail lacquer shades – now at faster speeds. The Try It On Color Studio continues to provide a look at all current OPI shades, while the search feature now incorporates retired shades, allowing users to view past favorites and information about the year in which those hues were retired.
The updated OPI App also includes higher resolution images to further enhance visual displays. In addition to running faster, the application now has the capability to wait in the background while other programs are used, namely Facebook. This feature gives users the option to check OPI's Facebook page without having to leave the OPI App.
"The improved OPI App gives fans the chance to try on lacquers easier than before. The App's Try it on Studio has been hugely popular, and we are happy to improve upon and expand it. It's a great resource when choosing your lacquer at the salon, since you can get an idea of how a color looks on your hand before committing," explains Suzi Weiss-Fischmann, OPI Executive VP & Artistic Director. "The portable nature of the OPI App makes it easy to take while shopping and choose a lacquer shade to accessorize any new dress, top or jacket right there in the store!" The OPI App also includes a search bar with word prompt technology; after typing just a few letters, any possible options will be proffered. Since its original debut, the App has added a sort-by-collection feature, highlighting current collections and promotions so that users will know what's new to the brand. The App even lets users select favorites, storing lacquer choices for future reference.
[Images courtesy of Harris Shepard Public Relations]
Related: OPI Continues New York Fashion Week with BCBG Max Azria | "Lucky" Awards Nails | The Muppets | OPI kicks off New York Fashion Week with Lauren Moffatt | OPI Kardashian Kolor Khaos