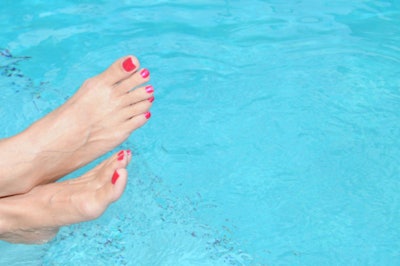 Occasionally cooling off in a chlorinated pool this summer should not affect manicures or pedicures. In fact, most women up their visits to nail salons during the summer so that they can show off their bright pedis and fun manis while relaxing poolside. However, there are a couple precautions you should know and be able to educate clients on if they do plan on doing a lot of swimming this summer.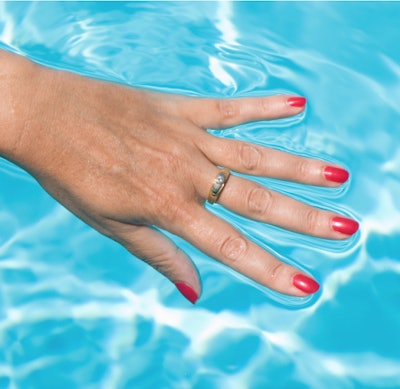 Chlorine is a chemical used to disinfect water. Unless a person spends a significant amount of their time in a chlorinated swimming pool, their fingernails should show no changes after swimming. More often, clients who swim during the warmer months will complain of drier cuticles and wonder if it's due to the chlorine. If they are swimming in a chlorinated pool more than once a week, chances are the natural oils are being squelched from the skin due to the dryness that occurs with chlorine. Clients who expose their nails to a lot of water, as when swimming, need to make sure that they keep their fill appointments so that moisture doesn't get trapped between the natural nail and any enhancements like acrylics or gels. The trapped moisture can cause skin infections. If your clients who get nail enhancements swim a lot during the summer, you may suggest less time in between fills and/or appointments to prevent any lifting.
Suggest these tips to your clients who want to make a splash both in the pool and with their nail style this summer.
1. Wear a base and top coat with nail polish.
2. Wash hands and apply cuticle oil to cuticles post swim.
3. Decrease time in between fills.
4. Moisturize hands and nails with a lotion that includes an SPF before and after swimming.