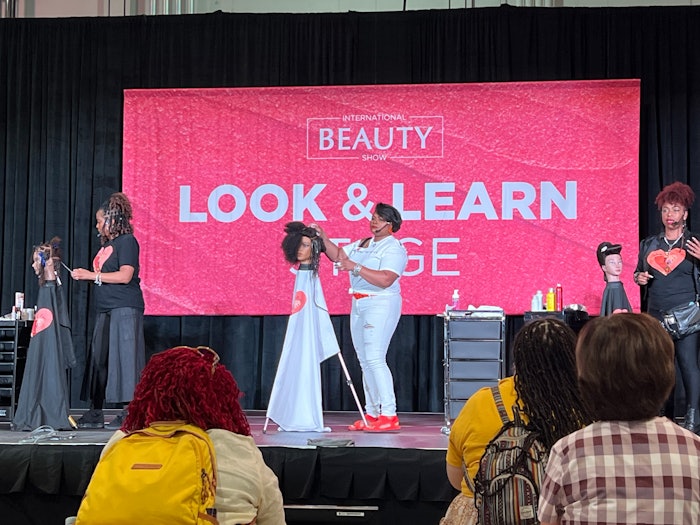 Courtesy of Gabby Bach
The International Beauty Show (IBS) took place in Las Vegas on June 24-26, 2023 at the Las Vegas Convention Center.
The three-day event was filled with plenty of educational opportunities, product demos on the show floor and so much more! If you were not able to attend, here's four things you missed. 
Education
IBS Las Vegas offered countless educational opportunities with its first day dedicated solely to classes before the show floor even opened. 
Whether you're a newbie in the beauty industry or a long-time expert, there was plenty for you to learn and take away from the classes at IBS! 
In their classes, both Jim McConnell, head chemist and co-owner of Light Elegance, and Brenda Amaral and Kerri Hebb of True Hair Education emphasized the importance of knowing the chemistry of what products you use as a nail tech/hairstylist, so you can tackle any client that comes your way. 
Debbie Williams (@askdebbieabouthairandhealth) shared expert advice to help hairstylists (or anyone in the beauty industry) take care of their health and well-being by recommending super foods they can incorporate into their diet, such as red cabbage, kiwi, bananas and more. 
For those looking to learn more about hair techniques, NAHA 2023 Educator of the Year Rodrick Samuels (@rodricksamuels) and Earl Sagewolf (@earl_at_work) shared their winning techniques for barbering success with Cloak & Dagger. 
Products 
If you were looking to shop, there were plenty of booths to stop by on the show floor! 
For any press-on nail lovers, Rave Nailz highlighted their new launch, the French Twist Collection. Classy Cuticles also showed off their new line of Summer 2023 cuticle oils. Paris Lash Academy's stunning booth turned heads on the show floor as they showcased their products, including their recent foray into polishes. 
On the hair side, Hattori Hanzo's booth once again stole the show. They also used their educational classes as an opportunity to share the benefits of their Readers' Choice Award-winning shears. CHI showed off their Sparkler V.I.P. Set, which includes their Hairstyling Iron and Hair Dryer that are covered in over 5,000 genuine crystals. Sutra Beauty debuted new additions to their Heat Guard line: a shampoo, conditioner and renewal spray. 
Mainstage Presentations 
At IBS Las Vegas, there were two mainstages on the show floor that drew plenty of crowds. 
The Look & Learn stage featured 35 minute demos that helped stylists gain plenty of insight on the latest trends and industry techniques. 
Keya Neal (@keyaartistically) took Texture vs. Race to the Look & Learn stage to spotlight Black hair artists who demonstrated a diverse range of techniques, showing that textured hair is beautiful no matter how it presents. She also highlighted her upcoming Texture vs. Race Summit, set to take place December 10-12, 2023 in Baltimore, Maryland.
Oligo Pro Chief Brand Ambassador J Ladner (@itsmrjladner) also took to the Look & Learn stage to share tips on depth, contrast and coverage alongside Curl Educator Martina Nicholas (@4allcurlkind). 
The Powerhouse Pavilion, sponsored by Myavana, featured a sweeping gallery of iconic Black entrepreneurs who forged their ways to advance the beauty industry. Multiple panels held at the pavilion helped attendees learn from some of the best minds in the business how to boost your career through multiple education panels throughout the event. 
Fun 
With an event like this held in Las Vegas, of course there is going to be plenty of fun! 
Aprés Nail debuted mystery boxes at their booth, allowing attendees to take home surprise goodies.
Olaplex celebrated their 9th anniversary at the show and adorned their booth with birthday balloons to make sure all the attendees knew to help them celebrate! 
The energy was also high on the show floor and in the classrooms with plenty of classes filled to the brim with attendees, eager to grow their knowledge. 
If you are feeling FOMO from this year's show, don't worry! IBS Las Vegas will be back next year June 22-24, 2024 at the Las Vegas Convention Center. Registration is set to open Spring 2024.