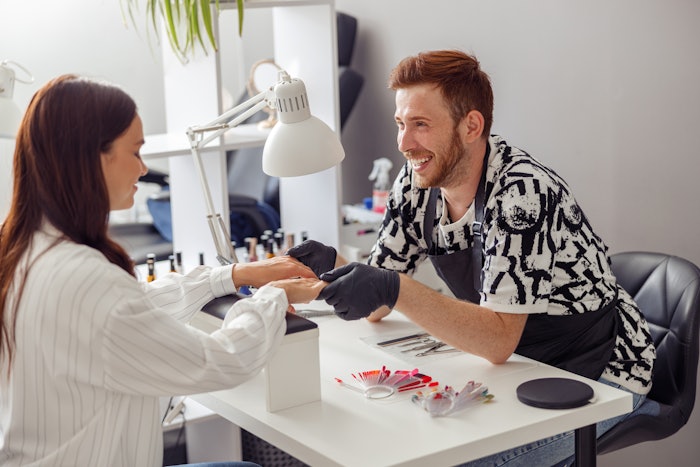 Starting out with any new skill or on any new career path can be an incredibly daunting feeling.
In a world when we spend a lot of our time on social media, it can be a tough feat not to compare our starting points with the work of others, who are at the top of their game and posting romanticized TikToks of their iced latte-fueled work days.
As a recent trainee starting out in the world of nails who has spent the morning nipping a poor clients cuticle just a bit too much, using these images as a source of comparison is enough to make you run for the hills and vow to never pick up a file again.
But behind each carefully curated piece of content is a back log of images that can only be marked as the 'before' shots. Each glossy image actually holds a story of a nail tech who embraced commitment to perfecting their craft over time, in order to eventually hold those two images together and revel in how far they have come and in finally achieving their perfect nail-fie.
Just like all those deliberately selected pieces of content, the following three tips have been thoughtfully chosen and explained to reflect what I believe to be three pillars to staying grounded in what can be an overwhelming space.
1. Focus on the step in front of you, not the whole staircase. 
It's perfectly ok to not always be posting pictures of your freshly manicured hands draped over a Chanel handbag and videos of you using expensive scrubs and lotions. Focus on perfecting your technique first and foremost. Simple elements, such as good lighting and a plain background, will go a long way as a starting point for your photos. Let the manicure speak for itself, and get your work out there. You can slowly start to introduce other features and elevate your images with your own creative spin as you go, but your Instagram feed doesn't always need to look like that of an influencers for you to be successful and sought after, especially if you are fresh off the mark.
2. You are not a miracle worker. 
Like Cinderella's slipper, sometimes it just won't fit. Everyone would love a dreamy nail bed and for their nails to completely match the inspo picture they have brought in every time, but, unfortunately, that's just not reality. If your client has a history of picking off their gel polish, the particular color doesn't quite suit their skin tone or an alternative shape and length will better suit their lifestyle, then substitutes may need to be made or some effort over time implemented in order to get the natural nail back to health. Share your knowledge and work with your clients to provide the best possible outcome, personalized to them. Even if it means the manicure is not worthy of an Instagram grid post this time round, as long as you have avoided further damage, have kept your client informed and explained your process, then you have done everything correctly.
3. You are not for everyone, and that's okay. 
Every nail technician has their own particular ways, from shaping to painting a French tip. Sometimes you will click with a client and sometimes you won't. The clients that are meant for you will match your style and your energy. You will never be able to please and cater to everyone in every way and you shouldn't want to. Focus on what you love to do and become the best at it. You are under no obligation to cater to every niche and copy what has worked for someone else. If you aren't also fully invested in it, it will never reap any rewards. See everything you do and put out into the world as a reflection of your most authentic self, and those that vibe with it will come to you.
If you have found your passion in nails, then I truly hope that you can begin to flip the narrative and instead look for inspiration in the work of those you admire and that these tips have encouraged you to commit to your own journey as well as help you with navigating the pressures of nail-tok and becoming confident in your services and the value that you bring to the industry as an individual.