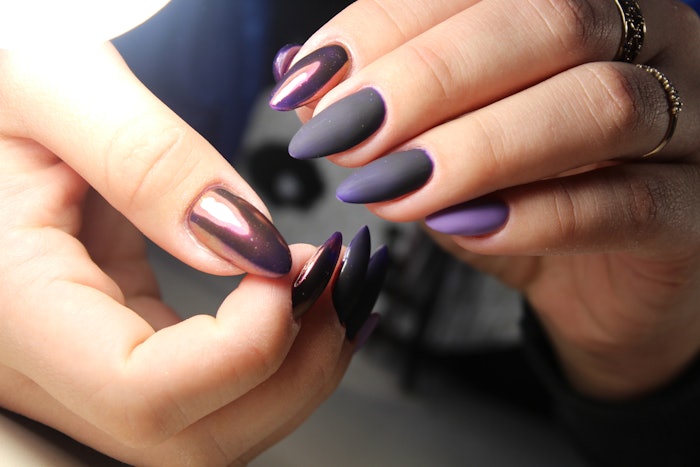 Chrome, glazed donut, Hailey Bieber nails: You've no doubt seen, searched or used one or more of these hashtags recently and contributed to the circling viral trend that has no intention of slowing down.
Thanks to our social platforms, the style has seemingly become a staple alongside the French tip and classic red. It seems every man and their dog has a new found love for introducing iridescent powders to their manicure.
Nail powders like this are simply powdered pigments that are applied to slightly tacky nail polish to make a colored layer or to slightly change and compliment the base color for a desired effect. What may not be as commonly known is that they don't stop at iridescent. They actually come in a variety of solid colors.
We can see the slight rise in interest of these products recently across the pond, with companies such as Nail-Luxe in the UK promoting and selling pressed color palettes. Palettes like this available for purchase online are similar in look and feel to a range of eyeshadows; however, they are specifically for use by nail technicians. With no loose powder or glitter to contend with, they allow us to have all the fun of a color run on our nails. We can create rainbow and pastel color explosions, without the mess.
It's safe to say that the UK has generally always been slightly ahead of the game when it comes to trends and Australia tends to follow suit, but with TikTok becoming our favorite daily news anchor, it's become much more accessible and easy to keep on top of and the gap has most certainly been shortened.
The latest named trend to take on the use of pigment powders is aura nails. This trend incorporates a vibrant colorful gradient blended against a solid base color, both chosen carefully and specifically for the client, to represent their overall energy. Think mood ring vibes! Aura nails have already gained more than 27,000 tags on Instagram, with technicians all over the globe posting and incorporating their own individual twists.
It doesn't stop there for ways to play with these pigment powders. I'm predicting that 2023 will also play host to the revival and modernization of ombré nails. Just like Y2K fashion, this old-school style was bound to make a comeback at one point or another, and now is as good a time as any.
Introducing gorgeous gradients of dark to light in various color plays, pigment powders will create a softer and more subtle overall look to ombré nails, really tapping into and reflecting the minimalistic and feminine era which is currently popping off all over socials and in salons.
There's no doubt an improvement is needed to the dated white acrylic style that we all know and associate the name ombré with. This product may be an underdog, but it may just be the solution we've all been waiting for.
About the Author:
Megan Bryant (@meganaileenmanicurist) is nail technician residing in Melbourne. She currently works for Buff Nail Studios in Camberwell as well as freelancing. Bryant is an aspiring writer and spends her spare time writing about different areas and trends within the nail industry.