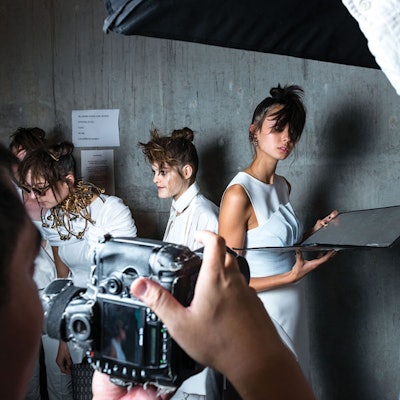 The career opportunities for nail techs are as varied as the mini masterpieces they create. While some artists thrive in a salon or classroom setting, for others, the urge to work behind the scenes in publishing or entertainment pulls strong. Enter editorial nail techs, who fashion the manis of celebrities, models, musicians and influencers for magazine spreads, advertising shoots, runway shows, red carpet premieres, TV commercials, print ads, music videos and feature films. This glam scene operates by its own set of rules, with pros and cons to match. And while the competition is fierce, one might argue that in today's interconnected world, there's never been a better time to launch into editorial.
Getting Started
Celebrity manicurist Elle, whose clients include Jennifer Lopez, Michelle Williams, Victoria's Secret and Maybelline, got her start in 1998 by swapping manicures for haircuts at famed stylist Oribe's Manhattan salon. After Jennifer Lopez noticed one of Elle's flawless sets, the pop star asked her to do her nails for the 1999 MTV Movie & TV Awards. "The way we booked editorial nail jobs years ago is different from how techs break into the 2019 commercial nail industry," says Elle. Visibility was restricted prior to the days of social media, which made networking and referrals—though still important now—essential prerequisites. Julie Kandalec, founder of Masterclass Nail Academy and celebrity manicurist to clients like Emilia Clarke, Mariah Carey and Marion Cotillard, concurs. "Before 2010, it was all word of mouth and networking," she says. "I'd also fly to L.A. several times a year to build my book."
Then social media shrunk the world. Now it's easier than ever to get your work as a nail artist noticed globally simply by displaying it online. "Join Pinterest and create mood boards of images that inspire you—angles, lighting, nail shapes, models, unique art," suggests Kandalec. "Create a professional Instagram page and link it to a Facebook business page for the over-30 demographic." Don't go over the top with super-long nails, 3-D flowers and chains. "That's a rookie mistake!" enthuses Kandalec. Instead, showcase five wearable editorial looks for every avant-garde set, as timeless digits are the ones that sell.
Still, old-fashioned networking and on- the-job training can help aspiring editorial nail techs establish their careers. "Building relationships with already-established nail techs is invaluable," emphasizes Naomi Yasuda, celebrity manicurist to stars like Madonna, Lady Gaga and Celine Dion. "When starting out, I recommend assisting a manicurist you like to get your foot in the door and learn the particulars of how things work with celebrities or on a set."
RELATED: Former Disney Star Launches Cruelty-Free Polish Line
Building a Book
Every nail artist wishing to work in editorial needs a portfolio. This visual resume sells a tech's skill set to art directors, commercial producers and agency owners—it's a business card worth at least a thousand words. Advanced books boast tear sheets— aka pages torn from glossy magazines in which the tech's work has been published. When just starting out, nail techs can use test shoot images until they build their books with work from higher-profile gigs. These free sessions involve collaboration between a photographer, manicurist, hairstylist, makeup artist and fashion expert, all cooperating to produce images each pro can put in a portfolio to generate future bookings. "Shoot once a week in large markets like New York or L.A., as photos become outdated fast," says Kandalec. "The more you test shoot, the better your skills and creative eye become." Beauty schools and universities are good spots to liaise with fellow budding pros, from up-and-coming artists to beauty shutterbugs—just make sure your work ethic and style preferences are compatible. "Flexibility is essential, because photo shoots are all about teamwork," says Yasuda. "You're collaborating with other artists, producers and editorial directors, and everyone must be on the same page."
Of course, it goes without saying that flawless technical skills are a necessity. "Artistic expertise has become an important part of creating nail art, but even if you can paint the Mona Lisa, no one will hire you if your polishing and cuticle work aren't impeccable," says Elle. Ongoing education is a great way to stay ahead of current trends while mastering basic skills like the effects of retouching, comprehending skin tones or learning how lacquer will reflect on film.
VIDEO: The Making of NAILPRO's Creating the December 2018 Holiday Cover with ORLY
Finding an Agent
Agents exist to facilitate interactions between nail techs and clients. They nurture personal relationships with global creative decision makers, which makes it easier to score lucrative editorial jobs. Agents negotiate contracts and fees while promoting the artists they represent, and for such services, they claim 15 to 20 percent of the fee earned per job. While most agents are based in California, New York and Miami, some have recently set up shop in other major cities. (Check models.com for a full list of beauty artists' reps.)
"Signing on with an agent can only really happen after you've created a well-curated portfolio and completed at least two years of freelance work," says Kandalec. "Many also require an engaging Instagram page." Collaborating with one's agent is fundamental, so start by visiting online platforms to get a feel for other types of artists the agent represents, and determine whether that work aligns with your specific outlook and aesthetic.
Understanding the Perks and Drawbacks
For those who crave variety, becoming a freelance editorial nail tech promises no two days will ever look the same. "It's fun to arrange my schedule so I'm not always sitting in a salon," says Elle. Ditto for Yasuda, who appreciates the inherent diversity. "The best part about editorial work is getting to meet so many different talented, interesting people," she reflects. On the flip side, such unpredictability makes it hard to plan ahead. "I can't remember the last time I walked into work at 9:00 a.m. and left at 5:00 p.m.," shares Kandalec. "While on a shoot a few weeks ago, the talent arrived three hours late—and then I didn't even get to do her nails," she laments. To be sure, this field will prove challenging for those whose lives are tightly structured.
Another obvious plus: It's undeniably thrilling to collaborate with A-list stars or see your name appear on the glossy pages of a prestigious publication. "I love fashion and art, so it's incredibly rewarding to see my work on a billboard or in a magazine," says Yasuda. Kandalec appreciates the opportunity to share her clients' most important days. "I'm with them before their first red carpet walk or Oscar win," she says. But keep in mind that prestige doesn't always equal pay. "I continuously chase money, sometimes waiting one month, three months or even six months for a paycheck," reveals Elle. "Budgeting is key, since 30 percent goes to taxes and an agent gets at least 15 percent." Kandalec agrees, "Don't expect to get rich fast, as it takes years to secure enough big- money jobs."
Do You Have What it Takes?
Here are the top five characteristics nail techs need to succeed in editorial.
1. Posses an in-demand skill set. "Many celebrities and models wear enhancements, so learn to do hard gel, gel polish and acrylic very well—and very fast," says celebrity nail tech Julie Kandalec.
2. Be a trendsetter. "Understand what's au courant, and have a solid grasp of past fads," says celebrity manicurist Elle. "Always bring something to the table."
3. Be flexible. Expect to reschedule appointments at least once. "I seldom get downtime or personal time because my schedule is so hectic," says celebrity nail artist Naomi Yasuda.
4. Always be prepared. An editorial nail tech should always be prepared for any type of job; her kit should boast a full range of necessary tools, polish and enhancement options.
5. Stay humble. First and foremost, your job is to make clients feel special, without letting your ego get in the way.
–by Francesca Moisin
[Images: Courtesy of Angela Marklew; Unsplash]
This story first appeared in the September issue of Nailpro magazine. To receive the magazine, click here to subscribe.