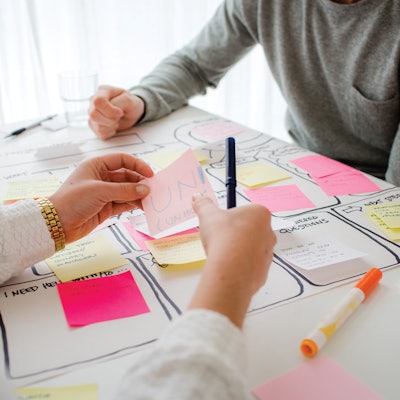 If you have your sights set on business ownership, chances are, you've already mulled over the sexy details—color scheme, specialty services, the perfect salon name—but have you prepared financial forecasts, selling strategies and market analysis? Creating a business plan may not be fodder for fantasy, but it will bring you back to reality when it comes to understanding the intricacies of ownership.
"When aspiring salon owners envision their future salon business, they often focus more on how it will look than how it will function," laments Jaime Schrabeck, Ph.D., licensed manicurist and owner of Precision Nails in Carmel, California. "A business plan should serve as a comprehensive examination of the financial feasibility of salon ownership in a competitive industry." There-fore, before you start shopping for fixtures, it's important to build the business basics to help ensure a successful endeavor.
Planning for Success
Why is a business plan so important? While you might think that your salon idea is a winner, there may not actually be a market for it; no customers, no business. A business plan can help you recognize challenges that can compromise your business in advance or predict expenses that you can't offset, says Tina Alberino, management consultant for This Ugly Beauty Business in Tampa, Florida. Any of these scenarios can doom your salon to failure before you've even opened the doors. "And it's always better to have your business plan fail on paper," she says.
RELATED: Correct Terminology For Nail Techs and Clients
All businesses should have a plan of action, whether you're opening a new salon or already own a business. Those without one often fail to create organized, cohesive brands, and a lack of organization at the outset can affect the entire salon's operations. "Business owners who hope to be successful in the long term don't operate by the seat of their pants," says Alberino. "They set goals and execute the steps necessary to achieve them, tracking their progress and making adjustments along the way."
Existing salon owners can benefit from a business plan as well. Dana Sidberry, licensed cosmetologist and CEO of Motivation Marketing Firm in Charlotte, North Carolina, stresses that it's never too late to create a blueprint for your business. Use it as a document that you can refer to in order to keep yourself accountable and stay on target, she notes.
Making a Plan
Before you actually begin creating a business plan, you must decipher what information you need. Fiona Adler, Boston-based business consultant, writer at DoTheThings.com and CEO of Actioned.com, describes three types of research that should be done in advance. Start with a feasibility study to determine whether it's a good idea to open your salon in the first place. It helps you find answers to important questions: Is the idea viable? What are the potential pitfalls? Then there is an investment pitch, or a pitch deck, which is, essentially, a quick overview of your business plan that you can present to potential investors. If you need to raise capital in order to fund your business, then you need to convince investors (or banks) that your business is sustainable; no one will want to invest money in a project that won't succeed. And finally, an actionable business plan provides you with practical focus and direction needed for day-to-day operations and decision- making in the salon.
Traditionally, Adler explains, business plans include an exhaustive list of sections, including an executive summary, a market analysis, competitive analysis, financial analysis, risk mitigation and so on. She believes, however, that a truly useful business plan can be less complex; it should simply determine what products and/or services you're providing and to whom, and how you'll achieve that. To create an effective actionable business plan, Adler suggests including the following sections, ideally keeping the finished document only one page in length:
Vision Statement – Define what products and services you provide, and give a brief but clear description of your target market to help you stay tightly focused on your business objectives.
One-Year Goal – This should typically be a financial goal (for example, revenue or profit goals). Make it challenging but realistic, and break it down into monthly goals for tracking purposes.
RELATED: 4 Ways to Make Your Salon More Eco-Conscious
Tactical Strategies – Outline specific strategies you'll implement in each quarter of the year to reach your goal. These are usually related to marketing or sales, but may also include organizational (changes to your team), supplier or developmental (adding a new service) strategies. First, brainstorm possibilities, then determine what will work best for you and your clients—for example, cross-promotion with a local gym, text marketing or growing a loyal Instagram following.
Action Items – Break down the strategies into accessible goals. List them by month and ensure that no task is too big (if it is, break it down further).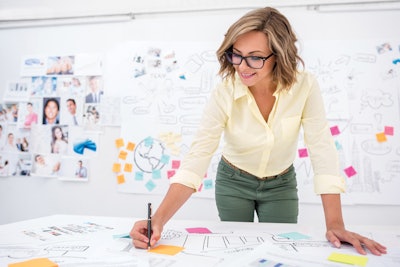 Avoiding Pitfalls
While an actionable business plan doesn't need to be formulaic or formal, it's good practice to follow some general guidelines to ensure a successful outcome. Here are a few guiding principles to keep in mind.
Make sure your business plan includes several key sections. Your plan should include a company overview, market analysis, SWOT (strengths, weaknesses, opportunities and threats) analysis and financial workups.
PHOTOS: The Exhibitors at Our Annual Nail Show
Don't try to prove yourself right when performing your market analysis. Challenge your own assumptions about the market and listen to what the data tells you, advises Alberino. "If the data shows that there's no need for or consumer interest in your salon concept, find out what there is a need for and change your plans accordingly," she says.
Make good use of the SWOT analysis. Use it to counter challenges before they present problems and identify weaknesses in your own plan—and to maximize your strengths and opportunities in advance.
Take a detailed approach to your financial analysis prior to opening. "Assess your salon's finances under a variety of scenarios," says Alberino. "Overhead tremendously affects your pricing and compensation. Don't open a salon without evaluating those numbers!"
Don't forget to cover marketing. Don't make the mistake of thinking you can stay afloat through word-of-mouth only.
Always include goals and forecasts in real numbers (such as profit and loss). "And don't forget to include the costs of products, continuing education and operating (such as rent, advertising, business cards and utilities)," says Sidberry.
Once your plan is in place, don't assume it's set in stone; treat it as a living document. Follow the plan as closely as possible, but expect to update it periodically. "Review it every day, make sure your team knows it inside-out, and keep it somewhere you can easily see it to remind you to take the necessary actions," Adler says. "Then, review it once per quarter so that it's always planned out 12 months in advance." Using this approach, you should be able to produce a business plan that you can refer to throughout the year, month by month. Cross off items as you go to ensure that you implement your strategies and achieve your overall goal.
Getting Help
Looking for help creating a business plan? Seek out salon-specific education. Jaime Schrabeck, Ph.D., owner of Precision Nails in Carmel, California, and Tina Alberino, management consultant for This Ugly Beauty Business in Tampa, Florida, recently covered this topic at the first-ever Nail Tech Reality Check Conference in Chicago, for example. Alberino also offers The Service Pricing Toolkit, which helps owners calculate operational expenses (including labor and fixed costs) and determine service pricing. "An owner can also use the business plan to seek advice from salon consultants
like myself," Schrabeck says. "The most important resources force owners to consider the significant legal and financial responsibilities of salon ownership."
Additionally, Dana Sidberry, licensed cosmetologist and CEO of Motivation Marketing Firm in Charlotte, North Carolina, notes that the local library offers a slew of resources for owners, including books on how to develop and utilize a business plan, while bplans.com offers assistance in creating business plans and provides financial resources. If you're looking for a template, Fiona Adler, a business consultant and the CEO of Actioned.com in Boston, offers one at dothethings.com/actionable- business-plan-template.
– by Tracy Morin
[Images: Getty Images]