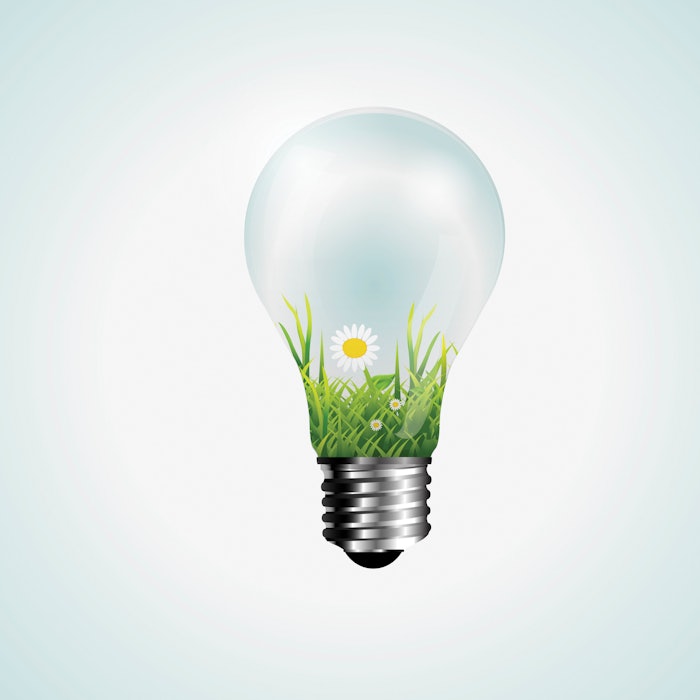 Earth Day is April 22, which means that there's no better time to reevaluate your salon's carbon footprint. "All businesses have a role in helping the community," says Andrea Vieira, owner of Washington D.C.-based Nail Saloon. "If every business owner made even one small adjustment to her protocol, it would really make a difference." For salon owners, becoming eco-conscious goes beyond "reduce, reuse and recycle"; it means restructuring your services without compromising your clients' comfort. The good news? "Implementing environmentally friendly changes doesn't require that much effort—and sometimes, it can actually save you money," says Karen Kops, cofounder of Poppy & Monroe salon in Washington D.C. Not sure where to start? We've got you covered! Here, salon owners share their top tips for going green.
1. Cut Down on Energy
Take a look at the lighting in your salon. Chances are, your lighting is using a lot of energy and racking up your electric bill. To reduce electrical usage and save money, replace your lights with energy-efficient LED bulbs, advises Letisha Royster, owner of Roswell, Georgia-based Waterless MediPedi Spa, adding, "Don't forget to turn off all lights at night and unplug equipment when it's not in use."
2. Reduce Waste
Paper consumption is a huge problem in many salons. The biggest offense: paper towels and cups. Reusable towels and glassware will help you cut down on waste and save you money in the long run. The trick to getting the biggest bang for your buck is to invest in high-quality products that can stand up to multiple washes. To stretch your dollar even more, try finding new ways to use old items. Vieira says the techs at Nail Saloon repurpose old towels. "We use them as cleaning rags, and then we wash them and take them to the Humane Rescue Alliance," she says.
Outdated magazines can also contribute to unnecessary paper waste. Sandra Weir, founder and CEO of Miami-based Gloss Naturals & Nail Bar, says her salon provides clients with digital versions of their favorite magazines on complimentary iPads. For a cheaper alternative, recycle your magazines on a regular basis.
3. Save Water
Excessive water usage is an issue in many salons across the country. Studies have shown that waterless services not only save water, but are also a more hygienic alternative for clients—especially those with high-risk medical conditions. "By eliminating water, we minimize the risk of infection and save up to 15 gallons of water per service," says Gabriella Figueiredo Santos, director of operations for Washington, D.C.-based Varnish Lane salon. In addition to hygienic purposes, Kops says extended polish wear is another major benefit of waterless services. Figueiredo Santos agrees, adding, "Soaking your nails in water causes them to swell, which can result in premature chipping after your nails shrink back to their normal size."
So if you're not using H2O, what is the proper protocol for waterless services? "Start by cleaning and sanitizing the hands or feet with alcohol or lemon," explains Royster. "Next, exfoliate the skin and use a warm towel to wipe off debris. Shape the nail and massage the skin, and then proceed to polish application."If you're not ready to make the switch, Vieira recommends monitoring your water usage, noting, "Our techs fill only a half basin per pedicure service."
4. Reward Clients
One easy way to make a difference in your community is to get your clients involved. Gloss Naturals offers clients a free bottle of polish for every four empty (or close to empty) polish bottles they bring in to recycle. Similarly, Waterless MediPedi clients receive a discount for recycling their polish bottles and magazines. Another option? Implement a reward program for clients who walk or bike to the salon or show up to their appointments with reusable water bottles. Vieira emphasizes that small changes can add up, noting, "If we think globally and act locally, we can make an impact."
How do you help make your salon more eco-conscious? Let us know in the comments below!
-Taylor Foley is a Los Angeles-based freelancer writer.
[Image courtesy of Getty Images]