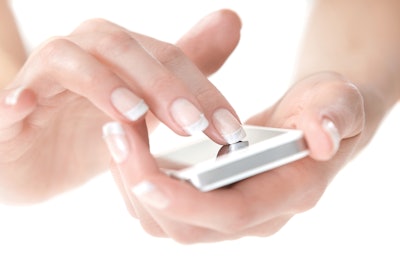 With its focus on creative imagery and behind-the-curtain insights, Instagram may be beauty pros' ideal social media platform. While some may view Instagram's response to Snapchat, Instagram Stories—aka videos or photos that stay posted for only 24 hours—as another item on their to-do list, the entrepreneurial-minded see the feature as a valuable tool for their brands.
According to Mary Clare Bland, owner of Bespoke Digital Solutions, Instagram usage has spiked—up to 32 minutes per day for those under 25, and 24 minutes a day for those 25 and up—since unveiling Stories in August 2016. Jenna Hipp, founder of Jenna Hipp Clean Beauty and Nailing Hollywood Management, says those who take advantage of the social media platform have an edge over the competition, adding, "Instagram Stories can be stronger and more effective than mass market or any form of big money advertising. If we want to keep up with the Joneses, we've got to start sharing—or hiring someone who will!" Here, social media-savvy nail pros and marketing experts reveal how "Insta Stories" can be used to build your brand, educate, boost retail and develop a like-minded community.
Finding Your Groove
As a nail tech, you provide a variety of services and products—as do the techs in the salon down the street. "Use Instagram Stories to highlight the unique customer experience you offer," suggests Casey Tibbs, owner of boutique marketing agency Image Squared. "Maybe your morning starts with a unique mani/pedi, then a coworker comes in with a horror story that has the whole place in stitches, and the day closes with some kid services. Each of these events makes for a perfect micro-moment to post on Instagram. Show the happy clients, a snippet of the funny story via video and, of course, the finished services."
Paizley Bradbury, co-owner with Natalie Minerva of Los Angeles-based salon Nail Swag, says Instagram Stories are great for "announcements and real-time action shots." Adds Minerva, "They shed insight into the professional's daily life. A lot of times our Instagram profile is more about how we want people to view us, whereas an Instagram story is more realistic and shows more of who we really are." Hellen Luu, operations manager for Canada-based gel polish manufacturer BioSeaweed Gel, says Instagram Stories offer a quick and easy way to connect with clients. "Without committing to a real post on our page, we can keep our fans updated with what's new, current sales or fun things we're up to during the day."
Nail tech Yvett Garcia notes that because the Instagram Story only stays live for 24 hours, the posting process tends to be more relaxed. "I think you post more fun stuff to an Instagram Story, without always worrying about it being picture-perfect," says Garcia, whose first Story was a "before" picture showing how great a client's nails still looked three weeks after her last service. "I realized people love seeing that!" she says, adding, "They responded well when I started regularly posting the nail art process from beginning to end."
Nail artist Sabella "Bella" Snyder started using Snapchat about a year ago to display her work and showcase certain parts of her home and travel life. "Once Instagram Stories became popular, I immediately switched since I had a bigger audience on Instagram," she says. "This free social medium has immediate reach—nothing besides YouTube can reach so many people."
Boosting Your Brand  
Before Instagram unveiled its Stories feature, Hipp, like Snyder, was pretty active on Snapchat, uploading daily pics and incorporating the platform's "fun faces and filters." However, brands would often miss her posts and customers would get frustrated, as the medium didn't allow them to link and purchase. "Shopping is now an easy option on Instagram. If you have your own brand, there are many features to effectively promote it to a broader demographic," she says. "I love how easy it is to tag brands and people through Instagram Stories—this creates buzz, energy and camaraderie between brands."
Ailee Fei, cofounder of Santa Ana, California-based nail art supply manufacturer Daily Charme, notes that unlike with traditional Instagram posts, you can also add clickable links to Stories. "In our experience, Stories have higher visibility than regular Instagram posts," she says.
Instagram filters and features—think icons, paint tools and video-editing tools, like Boomerang—allow Instagram Stories users to edit right in the app. This allows you  to better reflect your personal brand and/or your salon's themes and colors. Tibbs suggests creating quick collages of nail services to add to your Story, noting, "You can use free apps such as Pic Collage."
Similar to Snapchat, Instagram Stories keep people feeling "like there's a real person on the other side of the camera, and not some program or big company running the account," says Bradbury. Compared to other social media channels, Minerva finds Instagram Stories to be more fast-paced and, thus, captivating. "I also think posting pushes a sense of urgency because it's only there for 24 hours, so you've got to keep things moving," she says. Luu's first Story for BioSeaweed Gel centered on a sale. "It just offered a sneak peek—but it was so helpful! Since then, we've learned it's good to post at least one Story every 24 hours."
Julia Angelen, owner of Z Group PR, says Instagram Stories are perfect for promoting your brand. "There needs to be a story behind the Stories—you can't post just one," she explains. "Think of it like a TV show; there's an overall theme that plays out over a series of smaller episodes. Ask yourself: Is your salon sassy? Sophisticated? Edgy? If your brand is all about a luxury experience, show off all of the small ways in which clients are pampered and, of course, the results."
Rules of Engagement
For starters, most pros say videos do better than still pictures. "It's more interesting and engages the viewer," says Minerva. "Make sure videos are the optimal length: 30 seconds to three minutes," says Bland. "Always remember the 80/20 rule: Only 20 percent of posts should directly promote or advertise your product. The bulk of your content should revolve around fun beauty tips and related photos."
It's also wise to take the time to tag anyone you feature in your Story, and remember to thank them for taking part. "Go one step further and follow them," Hipp advises. "You'll likely get followed back!" On that same note, she cautions all social media users to respect others' privacy. "Some people don't want their private life on display, so always ask before taking a video or snapping a pic. And never, ever make fun of someone or film them without their knowledge!"
Snyder cautions against posting too much of the same type of content. "Incorporate Boomerangs, pictures and videos—make it fun and keep the viewer interested," she says. "Get a cool background or step outside to take some awesome footage. Make sure that your lighting is always good. Music in the background doesn't hurt either!"
Typically, content with "some kind of movement element" does best, says Bradbury. "People love twinkles and color—anything that keeps them wanting more," she says. "If you're posting too much advertising content or repeating the same designs, people get bored."
Garcia's best-performing Stories are those that feature returning clients, before-and-after shots and behind-the-scenes artistry. "It's good to show the whole process," she says. "People will keep clicking until you reveal the end result as a post." She cautions, however, against posting too much. "No one wants to tap on 300 pictures; they'll most likely just skip your Story altogether," she says. "And, depending on your personality and the type of image
you're trying to portray, it's best to stay professional—meaning no crazy late-night party pics." Minerva agrees, adding, "Never post inappropriate things or things you can't take back. You can screenshot anything now."
Some find Instagram Stories' limited run to be a bummer. "Once that 24-hour period is up, it's gone," says Bradbury. "Unless you've got a full-fledged production operation, where you keep your old content on hand so that you can repost it later, you always run the risk of your audience missing out," she says. Luu suggests saving any standout pictures or videos and "re-posting them at other peak times."
Keep in mind, when it comes to social media portals, Instagram Stories are a different kind of beast. "It can be a little less organized and less polished than your Instagram timeline," says Minerva. "Some people prefer a more specific look and aesthetic, but I actually like that about Stories, because again, it's really just me doing my thing!"
What do you think about using Insta Stories for marketing your services and building your brand? Let us know in the comments below! 
-Katie O'Reilly is a writer and editor in Berkeley, CA.
This article was first published in the November 2017 issue of NAILPRO
[photos: GettyImages/Carsarsa/E+]
READ MORE:
How to Make The Most Out of Live Streaming on Social Media