Though you don't necessarily need to have experience in the beauty industry to find success in it, you do need one thing: originality. The founders behind the creative nail brand Mini Mani Moo, Mark and Andreina Landis, are living proof of this philosophy.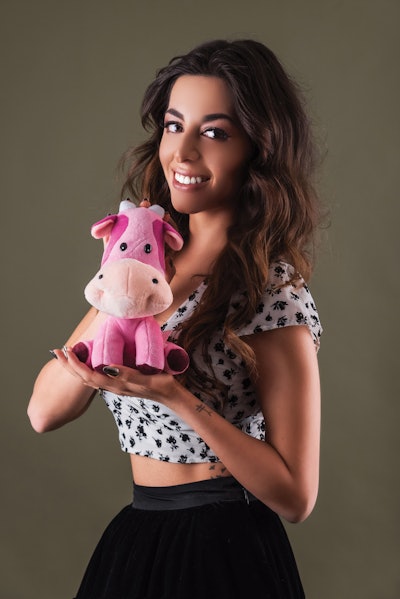 Because of their combined efforts and passion for innovation, their company is now quickly establishing its reputation as an inventive brand that "creates without limits." Here, the founders share their story of how it all started and what's to come.
A LABOR OF LOVE
Prior to creating Mini Mani Moo, neither Andreina nor Mark worked in the beauty industry. She worked as a model, and he in the entertainment business, in music, television and radio. "I've been building brands for a long time—just not beauty brands," Mark, the company's CEO, says.
One day, Andreina woke up and told Mark that she had a "million-dollar idea." Using her chemistry background, she went to work conceptualizing a one-of-a-kind product sourced from cruelty-free materials.
After experimenting with various combinations for two weeks, Andreina was satisfied with the result. That's how the company's hero product, a liquid tape and peel-off base coat for nails called Mess No More! was born.
"That's how we started our company, filling bottles on our coffee table by hand," Mark says. Founded out of their home in 2014, Mini Mani Moo now boasts two manufacturing facilities in New York and Los Angeles.
KITCHEN CREATIONS
Andreina, Mini Mani Moo's president, used her own experience as a consumer to formulate a product that not only she needed, but one she knew everyone who paints their nails could benefit from. "I was always having issues," she says. "I'm not a nail technician, but I like to do my own nails."
Andreina would watch tutorials online and then try to replicate nail art looks, but quickly grew frustrated because she would mess up, grab acetone to remove the paint and then have to start all over again. She also tried using masking tape to section off the nail; yet the polish would still get on her
fingers. After reading online that Elmer's glue would do the trick better than tape, she still ended up waiting 25 minutes for the glue to dry—and the whole process became a hassle.
"That's when I thought, 'I want to create something to help my fingers not be that messy; something that will protect my skin and is waterproof,'" she says.
Andreina bought ingredients that were suitable for skin, and with "a lot of trial and error" began formulating Mess No More! She didn't want the latex-based product to smell bad, but "latex smells terrible," she says. Eventually, after mixing enough combinations, she got it right.
Once the formula was set, the duo patented the design and trademarked the brand. And after creating one product they were proud of, Andreina felt motivated to keep going. "She keeps developing new products. She does this in our kitchen. She comes up with an idea, she works on it and then once she says, 'I think this is it,' we take it to the chemist. She's always working on stuff—all the time," Mark says.
To date, the company has 84 SKUs, and their brand includes everything from scented top coats, stencils and brushes to a portable USB LED light, chrome powders, stamping plates and more.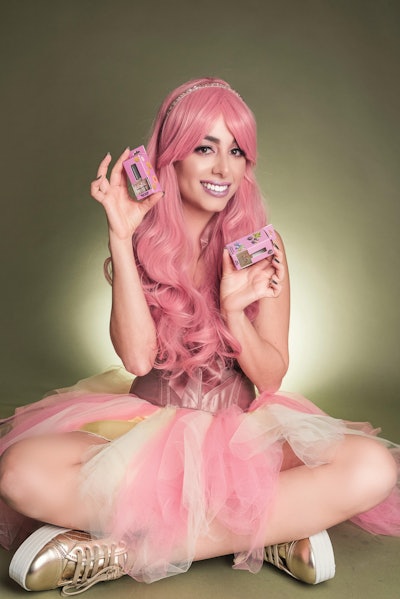 SOCIAL MEDIA MOGULS
While their lack of experience in the industry presented its challenges when they started out, Mark and Andreina also used it to their advantage. "As I always say, not coming from the beauty industry has been both a blessing and curse, because I didn't know anything about it," Andreina says.
One of the company's growing pains involved learning how to accurately price the products. While the items were originally available through Mini Mani Moo's website, soon after they launched, other stores wanted to feature their items. Mark and Andreina learned that if stores wanted displays and promos, they needed to price the products differently than what they were charging online in order to turn a profit.
"The good part was, because we didn't come from this industry, we're super fresh and we started things up really fast," Andreina says. Rather than focusing and planning on product launches that would happen two years down the line, they were able to focus on the immediate future.
It took much trial and error and hard work to get started, yet being a small company has allowed Mark and Andreina to have total control of the products they create and how they're presented to the world. Andreina is a creative force tending to multiple aspects of the business. "[The company is] much more than her just having an idea; most people don't realize that," Mark says. For example, Andreina taught herself how to use Adobe Illustrator in order to design the company's catalogue. She also built the company's website, manages the social media posts and designs every aspect of all the products, from creating the logo and packaging to formulating them.
"She's incredibly creative and modest," Mark says. "She's 28 years old. She knows what women her age want and how to reach them. We were also able to take a fresh approach by being very socially conscious. We really are a brand that targets millennials. We knew that social interaction is what millennials want."
With 120,000 Instagram followers and 625,000+ Facebook fans (at the time of print), Mark and Andreina send targeted posts directly to their consumers. The couple says that people all over the world also use their products in video tutorials. The organic, viral word of mouth has additionally helped grow the brand.
At last year's Cosmoprof North America trade show in Las Vegas, Mini Mani Moo taped a Facebook livestream of a nail art stamping demo. The 10-minute video garnered more than 1.4 million views in four days. "We're very in touch with how to reach that global audience of millennials through video and current technology," Mark says.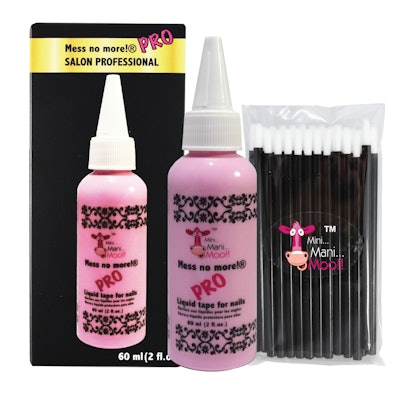 A FRESH LICK OF PAINT
With an endless variety of nail polishes for consumers to choose from, Mark and Andreina knew they needed to create truly unique products. "We don't just sell any kind of nail products. We have innovative products that are made in the U.S., and we strive to do everything animal cruelty-free. We don't just copy products," Andreina says.
While Mess No More! is a patented formula, other brands have tried to imitate it. Mini Mani Moo was the first brand to do stamping polishes "because they're highly pigmented," Andreina says. "They're not just for regular application; they're for everything nail art." The company's gold chrome powder doesn't have a regular gold hue; it's a mirror pigment with an antique gold finish, made with FDA- and EU-approved ingredients free of carcinogens like cobalt dioxide.
"So that's what we are—we're an innovative company, not just a nail company. [The products we produce] are not already there on the market; we're creating these new products," Andreina says.
Mini Mani Moo is excited to launch their next breakout star: Moo Gel—a peel-off base coat that turns any nail polish into a peelable gel polish; simply apply the nail polish and cure it for 30 seconds with a LED lamp. Plus, rather than taking it off with harsh nail polish removers that contain acetone, your customers can just stick their fingers in hot water to soak the polish off.
The introduction of brand-new concepts never before seen by the nail segment, coupled with hard work and drive, make Mini Mani Moo a company with a future as bright as the shades of its gel nail polish. n
-Karen Wilhelmsen is Beauty Store Business Magazine's managing editor.
This article was first published in the June 2017 issue of Beauty Store Business, sister magazine to NAILPRO.
[Images: Courtesy of Mini Mani Moo]
READ MORE: 
Holo Nails: Application Demo With Mini Mani Moo
Mini Mani Moo Baby! Meet The Pink Cow Behind The Cruelty-Free Nail Polish Brand