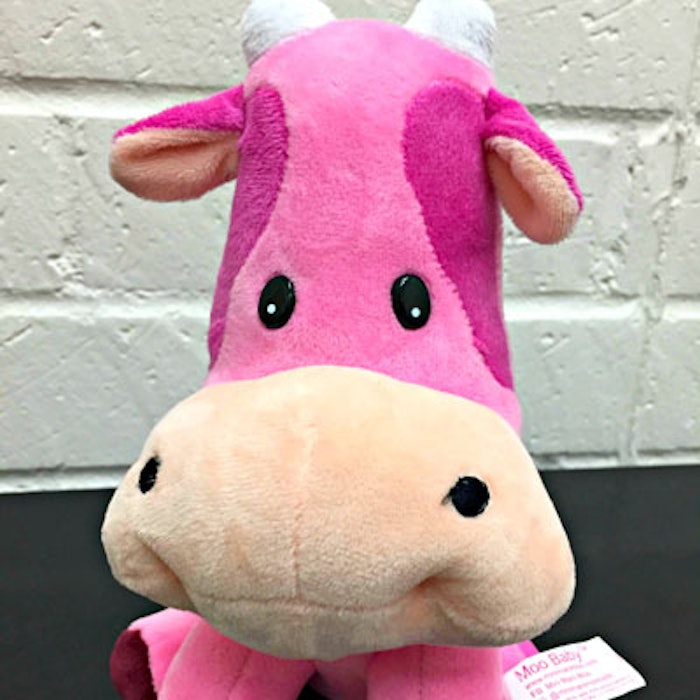 As nail professionals, we've had more than our fair share of bad days. That comes with the territory. So the next day you find yourself hiding behind your manicure kit wanting nothing more than to breathe and read the latest issue of Nail Pro magazine, the adorable Moo Baby by Mini Mani Moo is here to make your day so. much. better.
Mini Mani Moo Baby!
As nail techs and salon owners know, there's no such thing as downtime which is why it's important that nail professionals set aside a few minutes each day for self care. In addition to giving yourself a massage and time to drink your coffee while you catch up on the latest, the best way to relieve stress is through laughter and a lot of it. One way we do that at Nail Pro is with Mini Mani Moo's Moo Baby plush animal!
For those unfamiliar with the brand, Mini Mani Moo is a cruelty free nail lacquer brand whose mission is to provide nail art enthusiasts and professionals with time-saving, inventive tools needed to create beautiful nail designs. The company sells everything from liquid tape to stencils to nail tools but so far, one of our favorite products of theirs is the Mini Mani Moo Baby!
The plush Moo Baby is the perfect accessory for any salon and will instantly brighten up both you and your clients mood. Already one of their best-sellers, the Moo Baby is about the most adorable thing you can give a nail tech or Mini Mani Moo fan. For days when we want to pull our hair out to the point where we look like Danny DeVito, we turn to this little guy for some laughs and much-needed stress relief.
Don't tell me the photo below doesn't bring a smile to your face!
While it's not necessary, it is adorable and fun and, honestly, who doesn't need a little more of that in their lives? Order your Moo Baby here!