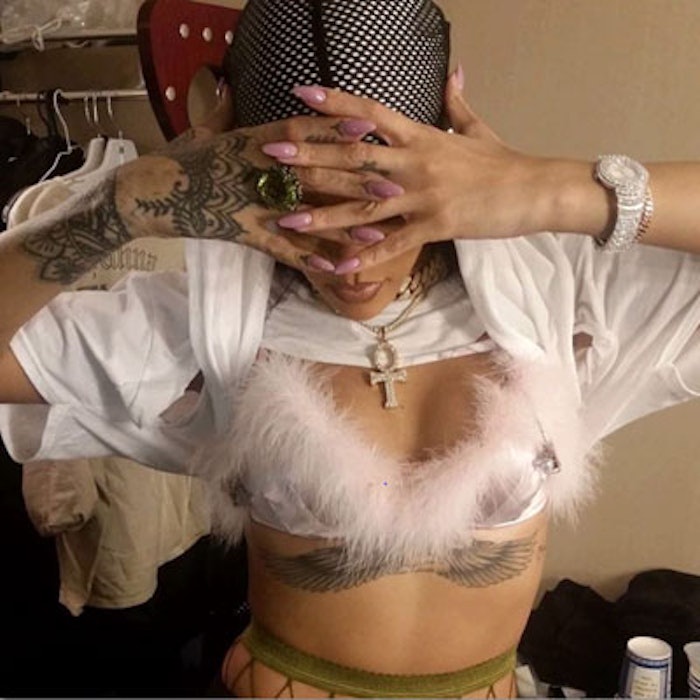 Kimmie Kyees is a woman of many talents, but what she's most known for is her wicked manicures. Nail artist to pop icons Katy Perry, Adele and Rihanna, the manicurist continues to wow nail professionals and enthusiasts with her creativity, skill and attitude, all of which are reflected in looks that range from the subtle and demure to the loud and bombastic. This year, Kimmie did Rihanna's nails for the VMAs and took our breath away with a versatile mauve manicure, a look that paired well with the singer's frequent makeup and outfit changes.
We interviewed Kimmie to get her take on the manicure as well as advice for nail techs aspiring to work with celebrities. Below, the interview.
NAILPRO: You wanted to choose a color that could withstand multiple outfit and makeup changes; why did you go with mauve over a traditional nude?
Kimmie Kyees: I think (Rihanna's) first look being pink made pink feel like a good choice.
Did you and Rihanna work on choosing a look together or was the choice ultimately yours?
Choice of color is always her. I recommend, show her what's new and try on our final picks so she can compare them. She does ask for my opinion, but in the end it's always what she likes the most. For this event, it was a toss up between red, silver and the mauve/pink. Pink won!
What's your (personal) favorite mauve?
OMG, there are so many…
You're doing manicures for three events: the Oscars, VMAs and the White House Correspondents' Dinner. Which color would you choose for each manicure?
Oh dear, there are so many variables in these events… Mostly who I'm working with and what they're wearing. For the VMAs, I think you can go a little wider–brights, and what not. The White House sounds like a red or a nude to me–something more traditional!
How do you prep nails for a special event?
A full manicure is a must. There's nothing worse than a polished nail with yuck cuticles, and always apply cuticle oil to finish it off!
Do you have a daily nail care routine? If so, what is it?
If I am not wearing a gel polish, I am a huge fan of nail strengtheners and I always wear oil. I will also do an occasional paraffin dip. I love them!
What was your favorite part about this manicure? Favorite part about working with Rihanna.
I was just happy for her, proud, excited. I felt blessed to play a small part in such an important night for her. I was also incredibly impressed with the multiple looks, and the teamwork involved to getting her into each look was outstanding! My favorite part about working with Ri is not only how amazing she is–I love her–but that she is also a great client because she loves to sing and talk with her hands. In photo shoots, her nails always get in a shot or two, if not all of them. She's a dream client for a girl like me looking for good images after the fact.
What is one nail product you discovered this year and have absolutely loved?
I think the mirror chrome is fun. It's a new exciting way to add a little something to your gel manicure!
What advice would you give to nail techs who aspire to work with celebrities?
Move to LA or NYC and always be prepared. Stay up on the trends, keep the newest and latest in your kit at all times and be prepared to work some pretty crazy hours!
For more interviews, don't miss: Celebrity Manicurist Mar y Soul Talks Ashley Graham's VMAs Mani.
Images courtesy of Shop PR.