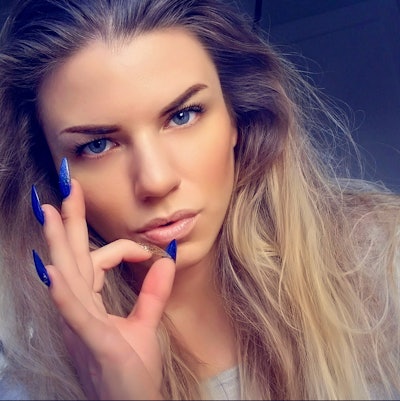 Say hello to Franziska Christensen, (aka @fanzis_com) a self-taught Danish nail artist and blogger. Get to know Franziska in our interview with her below:
Your Name: Franziska Christensen
Where in the world do you live?
I live in Denmark, Europe.
How would you describe yourself?
Ambitious, perfectionistic, dedicated and introvert.
Tell us about how you got started in the nail industry.
It all started 4 years ago, where I found out you could sprinkle loose glitter on to your nail polish. I googled "nail glitter" to find the nearest store to get it, and the webshop that appeared, also offered something called "nail gel." I had to try it, and a few days after that, an unknown passion was awakened.
What/Who inspires your work?
I run my blog on Fanzis, where I share my own work plus all the work I find beautiful from other great nailartists around the world. Almost everyone can become a nailtech, but it takes someone with a special talent, dedication and passion to become an artist. Those kind of people inspire me.
Tool(s) you can't live without?
You really can't live without a nipper for dead cuticles, cuticle oil and a nail file.
What tip can you offer to other nail technicians?
Quality before quantity, always. Use extra time for your work, if needed, and never compromise. Attract the customers who loves to see you work, and can sit for hours just because of that good atmosphere.
Anything else you'd like to add?
If anyone has got any requests for my next tutorial video, please let me know. And don't forget to follow me on Instagram, Youtube, Pinterest and Facebook!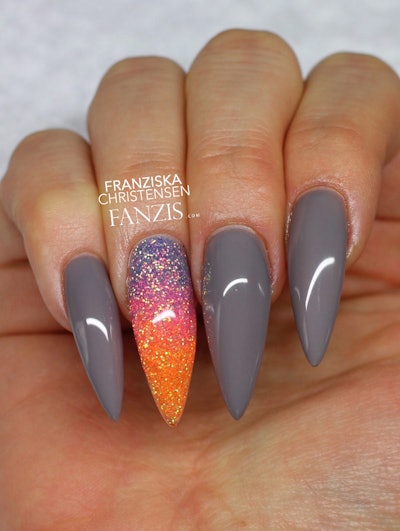 Would you like to be featured in NAILED DOWN? Post images of your nail art to our User Gallery. We'll be highlighting outstanding artists based on those submissions! (minimum six pictures to qualify for consideration) NAILPRO reserves the right to edit submissions for length, grammar and clarity.
Follow Franziska on the web:
Website:anzis.com
Facebook: acebook.com/neglelounge
Pinterest: dk.pinterest.com/Fanziscom
Instagram: @fanzis_com
Youtube: youtube.com/channel/UCqAZ7ztXU__PUEkJJZhZg5g
Images: Franziska Christensen @fanzis_com