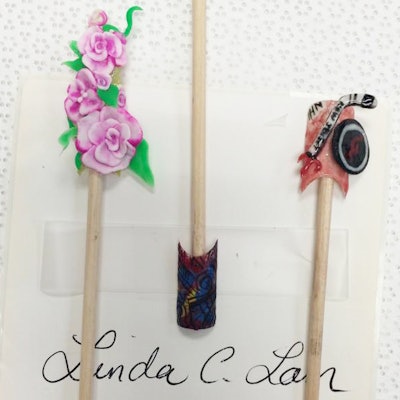 Want to draw attention to the designs you're able to do for clients? Try any of these methods for displaying your seasonal nail art at your salon or table.
10. When arranging summer designs, attach them to plastic toy shovels and stick them in a small bucket of sand.
9. Adhere fall designs to a craft pumpkin.
8. Holiday nails look darling hanging as ornaments from a miniature tree.
7. Mount nail tips on a 12-inch ceramic floor tile and display it on an easel.
6. Floral designs "grow" from a flowerpot by attaching them to florist sticks.
5. French nail tips are tres chic on a decorative Eiffel tower (think craft store).
4. Paste under-the-sea nail art on large shells or a miniature boat.
3. Plastic color wheels can hold a lot of creativity in a very small space.
2. Mini photo albums on your table easily create a clean display of your work.
1. Showcase design tips by hanging them from a pretty jewelry tree (the kind you'd use for necklaces) with string, wire or ribbon.
-Pam Minch
Photo by Dana Loth, nail art pictured from @nailsbylinda