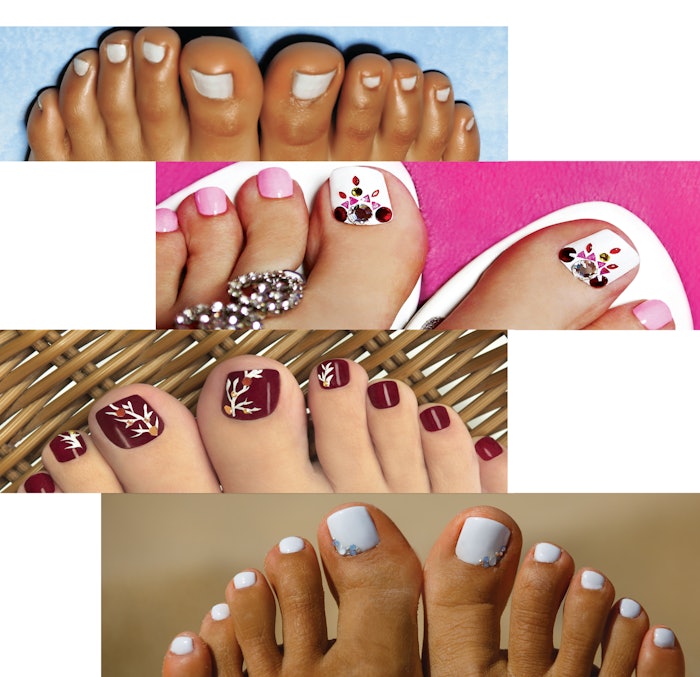 Acrylic toenails. Fake toenails. Prosthetic toenails. Toenail overlay. Toenail enhancements. So many names, but all one purpose: to enhance the appearance of your natural toenails. But, at what cost? In this article, I will break down and explain my theory on toenail enhancements. I have been specializing in this service since 2012, starting off with networking closely with the original owner of KeryFlex. I provided this service to podiatry offices in the Atlanta, Georgia, area and eventually my own establishment at NuFeet Medical Pedicures in 2015. Since then, I have focused on this service and have mastered the technique of making it as safe as possible. But, first, let us talk about the dangers.
Dangers and Diabetes
Not all toenail enhancements are diabetic friendly. No matter what product you use and how safe it is, you still need to take proper caution when it comes to people who have diabetes—mainly the diabetic foot symptoms such as neuropathy or poor blood circulation. When providing toenail enhancement services on diabetics, it is particularly important to make sure they are not suffering from any of these symptoms; any kind of negligence in this regard can present severe conditions. People with these conditions are more susceptible to infections, making this service not very safe for them. If you are unable to identify any of these foot conditions, I urge you to complete a program, like the Advanced Nail Technician Certification program offered by Nailcare Academy. Failure to identify these issues can cause a client to get ingrown toenails, infections or even amputation.
Continue reading about protection and protocols, toe-friendly products and communication and documentation in the September/October 2021 issue of our digital magazine.
About the Author
Erika Allison is the owner of NuFeet Medical Pedicures®. She is a certified Advanced Nail Technician (ANT), Medical Nail Technician (MNT) and Footcare Nail Technician (FNT), co-owner of Podiatry Portal and is a member of NAILPRO's 2021 advisory board.