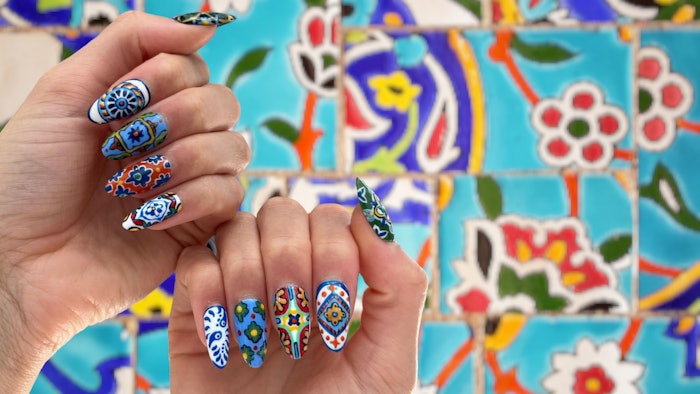 Courtesy of Faith Baxter (@luxurynailsbyfaith)
Nail artist Faith Baxter shares pros and cons for using press-on nails.
Nowadays, many people find themselves in occupations that don't allow long nails or make the job more difficult, such as the medical field, sports-related jobs, jobs requiring lots of typing and labor jobs that include lifting or washing dishes, making press-on nails an appealing option. Also, with the rise of DIY beauty trends, more and more people are opting for press-on nails as an easy and affordable alternative to salon visits. With the latest advancements in technology, press-on nails have come a long way from the cheap, plastic and fake-looking options of the past.
Let me take a shot at convincing you why press-on nails could be a good option for you or your clients, as well as explain to you the difference between many luxury press-on nails that are sold on social media versus the "press-on nails" you see hanging in the cosmetic aisles of gas stations and grocery stores. The latter are made of acrylic resin, also known as PLASTIC. These pre-made press-on nails often have cheap designs printed on cheap nails. They can be very damaging to your nail bed, especially if trauma occurs to your nails. Luxury brands on social media often sell press-ons made from gel. These press-on nails are made of gel, so they can provide some "give" when trauma occurs to your nails, leading to a safer and less-damaging option. Additionally, these nails may be soaked off using acetone which will disintegrate the nail or may be soaked safely in water with oil to safely remove the nail for future use. Overall, luxury press-on nails come with more customization, safety and credibility. They will last you longer overtime as well.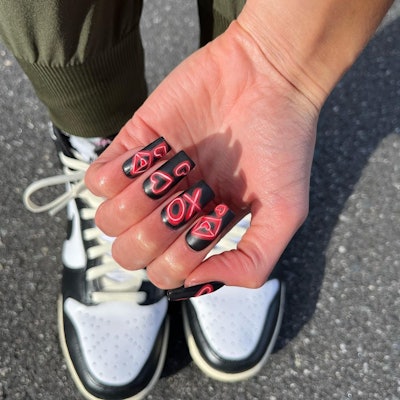 While press-on nails may not completely replace the need for acrylics and gels in salons, they have the potential to compliment these treatments. For example, press-on nails can be a great option for those who want to switch up their nail look frequently without the commitment and maintenance of traditional manicures.
Press-on nails can serve as a gateway for people who may not have considered getting their nails done in the past. By offering a more affordable and less intimidating option, salons can introduce these customers to the world of nail treatments and potentially convert them into regular clients. Therefore, press-on nails should not be seen as a threat to traditional nail treatments in salons. There is space for everyone to always support one another in the nail industry. With the right marketing and positioning, they can provide a valuable complement to these services and bring in new customers to the industry.
Tips for the longevity of your press-on nails: Don't treat your nails like tools! This can cause damage to your natural nail. 
Pros of Press-On Nails: 
Convenience: Press-on nails are a quick and easy way to switch up your nail look without the need to visit a salon. They can be applied at home in a matter of minutes with either glue or adhesive tabs and can be easily removed when you're ready for a change, eliminating the cost of removal in a salon.
Affordability: Press-on nails are generally less expensive than traditional acrylics or gel manicures. This makes them a more budget-friendly option for those who want to try out different nail looks without breaking the bank.
Customization: Press-on nails come in a wide range of styles, shapes and colors, allowing for endless customization options. You can choose the perfect set of nails to match any outfit or occasion at any time. Many artists who paint from home have the advantage of time to get the design perfect rather than rushing the appointment in time for the next client.
Cons of Press-On Nails: 
Durability: While press-on nails have come a long way in terms of staying power, they still may not last as long as traditional acrylics or gels. You may need to reapply them more frequently, depending on the brand and how well you take care of them.
Fit: Depending on the shape and size of your natural nails, you may have to file the cuticle area of the press-on nail to get a perfect fit for your nails.
Damage: If not applied or removed properly, press-on nails can damage your natural nails. It's important to follow the instructions supplied by the brand you bought from and to be gentle when applying and removing your nails.
Faith Baxter is the creator of press-on nail brand Luxury Nails by Faith. You can follow her on Instagram @luxurynailsbyfaith for more.