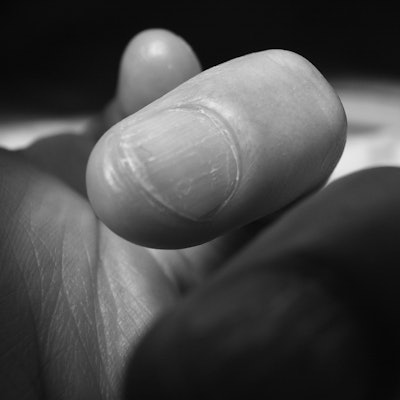 Undergoing chemotherapy treatments and taking multiple medications often cause changes to your client's nails. The nails can grow more slowly and become more fragile. "Chemotherapy can make nails brittle and dry, and vertical ridges may appear on the nail," says Melinda Minton, spa consultant, former spa owner and founder of Spa Secure, an international licensing program for salons, spas and wellness centers. "Chemotherapy can also change the nails' color to dark yellow or brown." Your client's ability to fight off infection is hampered during this period, so also watch closely for any sign of a fungal infection.
You can help your clients by knowing what you should not do to their nails during this stressful time. "Nail strengthening products shouldn't be used on clients with cancer or those receiving treatment for cancer because oftentimes the product irritates the nail bed," says Minton. "Also, the cuticles can be very tender and can tear or bleed easily. If a client has cancer or has had cancer recently, massage is contraindicated, so skip the hand and arm or foot massage when performing a manicure or a pedicure. Avoid reflexology as well." If you spot any discoloration, or a nail shape or tissue change, do not apply polish or enhancements. Instead, refer your client to her physician. If her doctor approves the service, you can schedule her later to work on the nail. Above all, follow Minton's advice: "When in doubt, ask the client to consult her physician."
Even with these procedural limitations, you needn't fade into the background of your client's life. Most women want to feel good about themselves while facing an illness. The effects of cancer and its ensuing treatments often take a toll on self-esteem and self-image. Keeping a client's nails looking great when her hair may be falling out or when she may be constantly nauseated will likely give her a confidence boost and inspire hope for eventual recovery.
When cancer has been diagnosed in your client, react as a professional and as a person. Be an educated nail tech, but also be a compassionate friend. You will be an invaluable part of your client's life during this difficult time, and by
remaining vigilant and supportive you can help your client on the road to a swift recovery.
– Tamra B. Orr
[Image: Toshiyuki IMAI via Flickr]