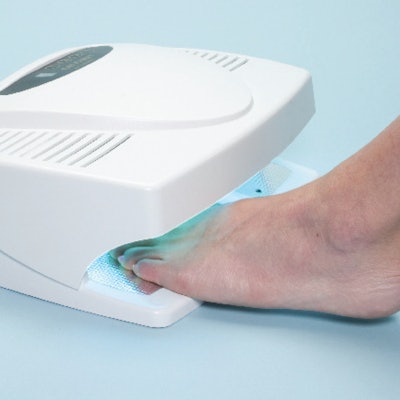 Keep your clients' pedicures vibrant all summer long with color gels! They can last for at least three weeks on toenails, so your clients won't have to touch up their pedicures while on vacation. Here are the steps for application:
Do Your Prep Work
To begin the service on healthy, clean, dry feet, use one of the following methods: Perform a quick dip and foot wash; spray the feet thoroughly with warm, soapy water; or, if your client just bathed, wet her feet with an antiseptic spray recommended for use on the skin.
Don't perform a long soak or service  a client after her prolonged exposure to water because the toenails are somewhat porous and will expand with too much water, thereby affecting the durability of the gel application.
Darlene Sammons, licensed massage therapist and nail tech at Head to Toe Salon & Spa in Chattanooga, Tennessee, shares her prep technique: "I never soak the feet before applying gels. I sanitize with soap and water and use a sanitizing gel when I massage. Then I do a mini-pedicure along with this service, the same way I would do a mini-manicure when applying a full set of gels on fingers."
Work with only healthy toes; no "I" should be present: injury, inflammation, infection or indication that anything is abnormal!
Prepare the nail plates of the toes just as you would prep fingernails: Gently push back cuticles, being sure not to break the seal, remove any excess tissue from the nail plates, gently remove the shine, and trim and shape the free edges to your client's preferred shape. Follow your gel system's recommendations for dehydrating and priming. Spread a thin coat of clear base gel on the nails—the layer should be about the same thickness as a layer of top coat. This layer performs two functions:
• It provides a foundation layer that bonds with the natural nails; most pigmented gels don't bond as well to the natural nail.
• It provides a safety layer. This allows you to file away the color layer when changing gel colors without the risk of abrading the natural nail.
Fully cure the gel base coat (the UV light will not be able to penetrate through most systems' color gel layers once they are applied).
You may need to sculpt or apply tips to toenails to achieve the desired shape and length. In this case, Sammons uses clear acrylic as her base and applies layers of gel polish on top.
Picture-perfect Application
Next, apply one or two coats of color gel, depending on the color intensity your client wants. You need to work quickly with color gels to obtain a perfect application; then you need to get the toes under the UV lamp as soon as possible. The color gels' pigments may cause the product to shrink, bead up or pull away from the nail plate if too much time elapses before curing.
Avoid touching the skin or cuticle with the gel, and before curing, use alcohol to wipe away any gel that has come in contact with the skin. Unlike working with polish, where you can use acetone on cotton and remove your mistakes, when working with gel, you cannot correct the cuticle area after you cure the gel.
One effect that livens up gel toenails: Lightly tap the nails' free edges with the sides of a brush coated in a different color of gel to leave a border of contrasting color along the edge. Use either white or a complementary color for a fun French-style treatment.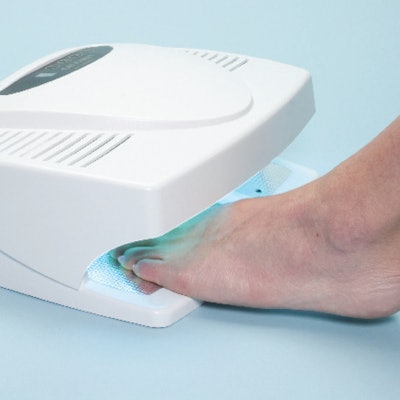 High-shine Finish
Depending on the gel system, color gels may or may not have a shiny finish when cured. Test on a practice tip so you'll know whether or not you will need to apply a high-shine gloss coat or sealant coat over the color gel. Carefully cap the free edges of the nails with the final coat of gel that you apply.
Keeping It Up
Generally, toenails grow more slowly than fingernails, so plan on filling gel toenail enhancements every three to six weeks, depending on the individual. To fill the toes, begin with clean, dry feet and, using either a hand file or an electric file, gently buff away the color, shape the free edges and prep the regrowth areas just as you would for a fingernail enhancement fill. Sammons' clients go as long as eight weeks between gel fills, but Sammons schedules traditional pedicures with skin care, massage, cuticle work and callus reduction in the middle of that time span.
What to Charge?
Sammons charges the same rates for the gel work she does on toes that she does on fingernails. Gail Booth, a booth renter at Fingerprints Nail Salon in Billings, Montana, charges $35 for the toes to be enhanced, and $20 more if she performs a pedicure. For fills, Booth charges $15 plus $20 for a pedicure.
– Karen Hodges